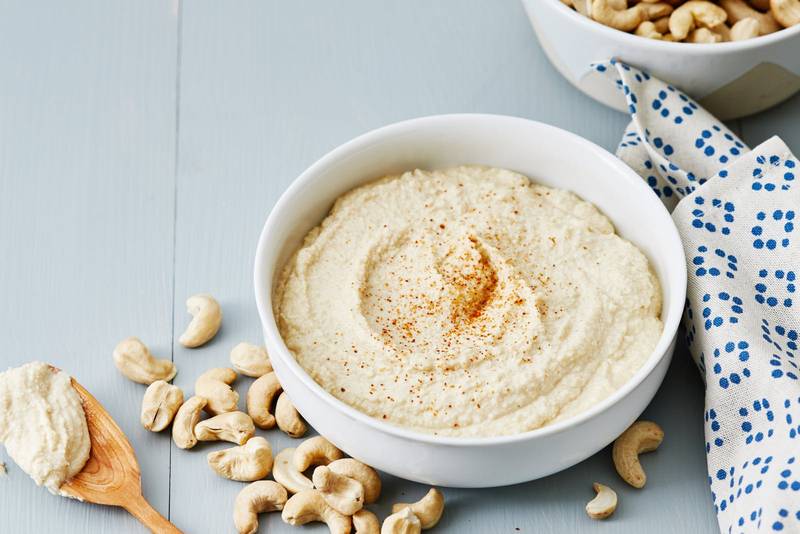 Cashew sauce (Keto Recipe Analysis)
This luscious cashew sauce makes even the most modest meals feel indulgent. Rich and deliciously creamy with a hint of cayenne! Oh, and it's ready in 5 minutes!
Full recipe at www.dietdoctor.com
Compliance
Based on the Keto way of eating preset. View more Keto recipes.
Daily Limits
net carbs
25g of 15g (165%)
Daily Goals
total fat
149g of 100g (149%)
Ingredients
keyboard_arrow_down
3 oz. cashew nuts
3 oz (85g) Nuts, Cashew Nuts, Raw

Daily Limits
net carbs
23g of 15g (152%)
Daily Goals
total fat
37g of 100g (37%)
keyboard_arrow_down
1/4 cup water
0.25 cup (59g) Beverages, Water, Tap, Drinking

keyboard_arrow_down
1/2 cup light olive oil or avocado oil
0.5 cup (112g) Oil, Avocado

Daily Goals
total fat
112g of 100g (112%)
keyboard_arrow_down
1 tbsp lemon juice
1 tbsp (15g) Lemon Juice, Raw

Daily Goals
total fat
0.04g of 100g (0%)
keyboard_arrow_down
1/2 tsp onion powder
0.5 tsp (1.2g) Spices, Onion Powder

Daily Limits
net carbs
0.77g of 15g (5%)
Daily Goals
total fat
0.01g of 100g (0%)
keyboard_arrow_down
1/2 tsp salt
0.5 tsp (3g) Salt, Table

keyboard_arrow_down
1 pinch cayenne pepper
0.5 g (0.5g) Spices, Pepper, Red Or Cayenne

Daily Limits
net carbs
0.15g of 15g (1%)
Daily Goals
total fat
0.09g of 100g (0%)