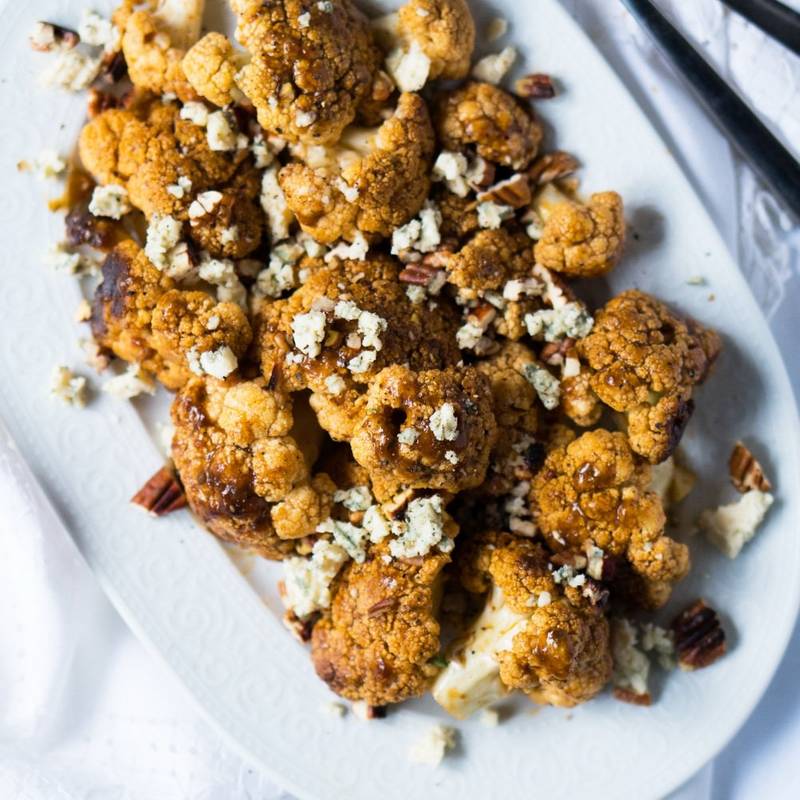 Slow Cooker BBQ Cauliflower with Creamy Blue Cheese ? (Keto Recipe Analysis)
This BBQ cauliflower is one of those dishes that keeps you coming back for more. Make it in your slow cooker for a silky smooth result.
Full recipe at www.gnom-gnom.com
Compliance
Based on the Keto way of eating preset. View more Keto recipes.
Daily Limits
net carbs
34g of 15g (228%)
Daily Goals
total fat
98g of 100g (98%)
Ingredients
keyboard_arrow_down
160 ml homemade BBQ sauce (plus extra for brushing)
160 ml (112g) Pineapple, Raw, Extra Sweet Variety

Daily Limits
net carbs
14g of 15g (90%)
Daily Goals
total fat
0.12g of 100g (0%)
keyboard_arrow_down
57 g organic grass-fed butter (melted)
57 g (57g) Butter, Salted

Daily Limits
net carbs
0.03g of 15g (0%)
Daily Goals
total fat
46g of 100g (46%)
keyboard_arrow_down
1 whole cauliflower (trimmed at the bottom)
1 head medium (5-6" dia.) (588g) Cauliflower, Raw

Daily Limits
net carbs
17g of 15g (116%)
Daily Goals
total fat
1.6g of 100g (2%)
keyboard_arrow_down
3 tablespoons blue cheese (crumbled )
3 tbsp (25g) Cheese, Blue

Daily Limits
net carbs
0.59g of 15g (4%)
Daily Goals
total fat
7.3g of 100g (7%)
keyboard_arrow_down
60 g pecans (roughly chopped )
60 g (60g) Nuts, Pecans

Daily Limits
net carbs
2.6g of 15g (17%)
Daily Goals
total fat
43g of 100g (43%)
keyboard_arrow_down
120 ml vegetable broth (or water )
120 ml (120g) Beverages, Water, Tap, Drinking