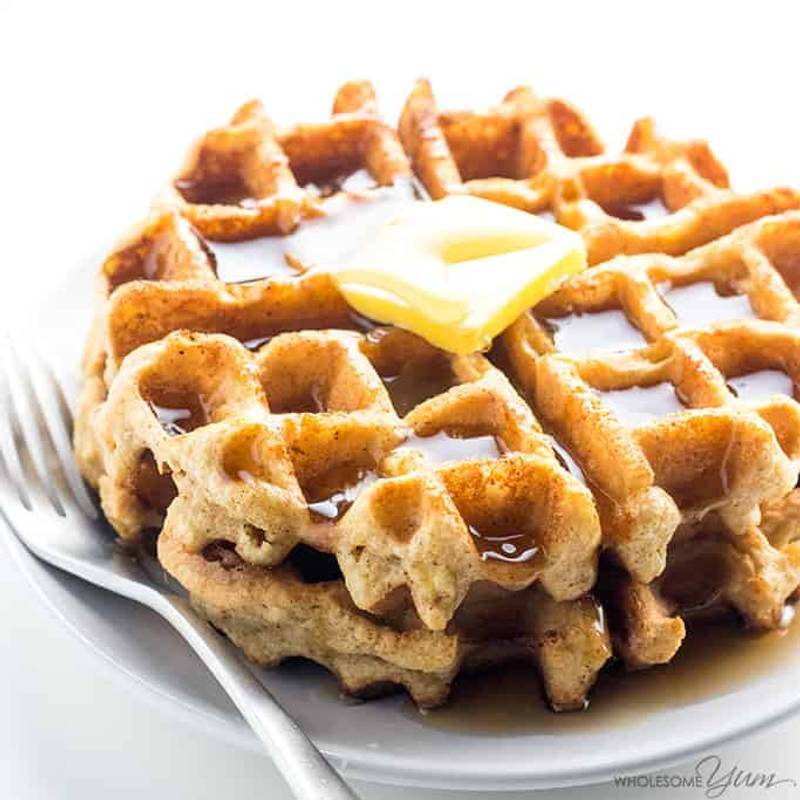 Keto Paleo Almond Flour Waffles- Gluten Free (Gluten-Free Nightshade-Free Recipe Analysis)
These easy keto paleo waffles with almond flour are quick to make, using natural ingredients. They even get crispy! Just 20 minutes including cook time.
Full recipe at www.wholesomeyum.com
Ingredients
keyboard_arrow_down
1 large Egg ((separated))
1 large (50g) Egg, Whole, Raw, Fresh

keyboard_arrow_down
1/2 cup Blanched almond flour
0.5 cup (56g) Blanched Almond Flour

Ingredients
BLANCHED ALMOND FLOUR
May not be a complete representation of the selected category.
keyboard_arrow_down
2 tbsp Erythritol ((or any sweetener))
2 tbsp (24g) 100% Pure Erythritol Crystals

keyboard_arrow_down
1/2 tsp Gluten-free baking powder
0.5 tsp (2.5g) Leavening Agents, Baking Powder, Low-sodium

keyboard_arrow_down
1/4 tsp Sea salt
0.25 tsp (1.5g) Salt, Table

keyboard_arrow_down
2 tbsp Almond butter
2 tbsp (32g) Nuts, Almond Butter, Plain, Without Salt Added

keyboard_arrow_down
2 tbsp Butter ((or coconut oil for dairy-free))
2 tbsp (27g) Oil, Coconut

keyboard_arrow_down
1/4 cup Unsweetened almond milk
0.25 cup (66g) Beverages, Almond Milk, Unsweetened, Shelf Stable

keyboard_arrow_down
1/2 tsp Vanilla extract
0.5 tsp (2.1g) Vanilla Extract