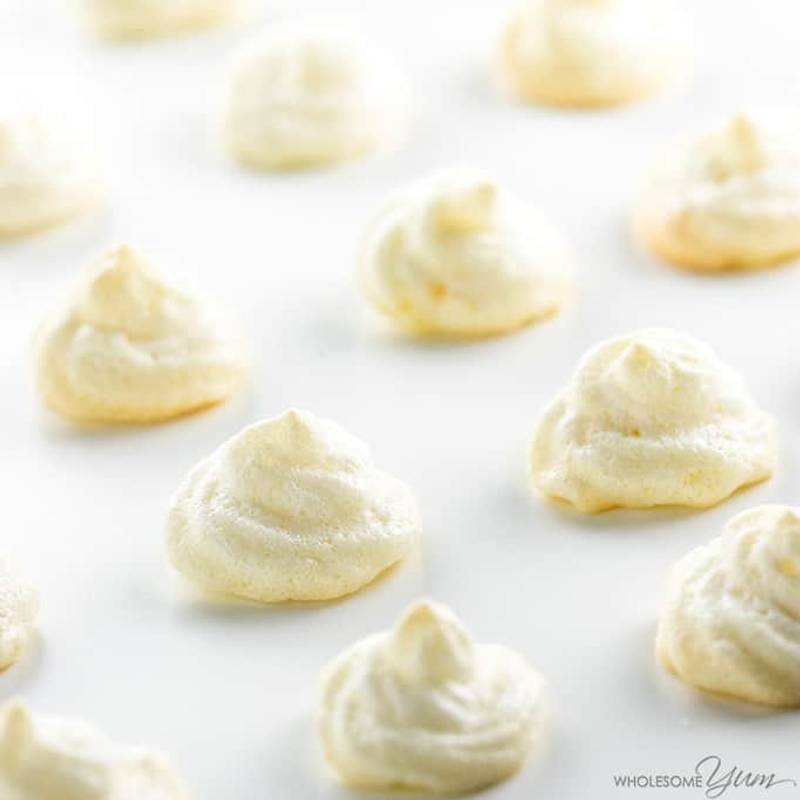 Easy Sugar-Free Lemon Meringue Cookies- 4 Ingredients (Keto Recipe Analysis)
See how to make meringue cookies that are healthy & delicious! These easy sugar-free lemon meringue cookies without cream of tartar need just 4 ingredients.
Full recipe at www.wholesomeyum.com
Compliance
Based on the Keto way of eating preset. View more Keto recipes.
Daily Limits
net carbs
49g of 15g (325%)
Daily Goals
total fat
0.13g of 100g (0%)
Ingredients
keyboard_arrow_down
2 large Egg whites ((at room temperature))
2 large (66g) Egg, White, Raw, Fresh

Daily Limits
net carbs
0.48g of 15g (3%)
Daily Goals
total fat
0.11g of 100g (0%)
keyboard_arrow_down
1/2 tsp Lemon juice
0.5 tsp (2.5g) Lemon Juice, Raw

Daily Limits
net carbs
0.17g of 15g (1%)
Daily Goals
total fat
0.006g of 100g (0%)
keyboard_arrow_down
1/4 cup Powdered erythritol
0.25 cup (48g) 100% Pure Erythritol Crystals

Daily Limits
net carbs
48g of 15g (320%)
keyboard_arrow_down
1/2 tbsp Lemon zest
0.5 tbsp (3g) Lemon Peel, Raw

Daily Limits
net carbs
0.16g of 15g (1%)
Daily Goals
total fat
0.009g of 100g (0%)