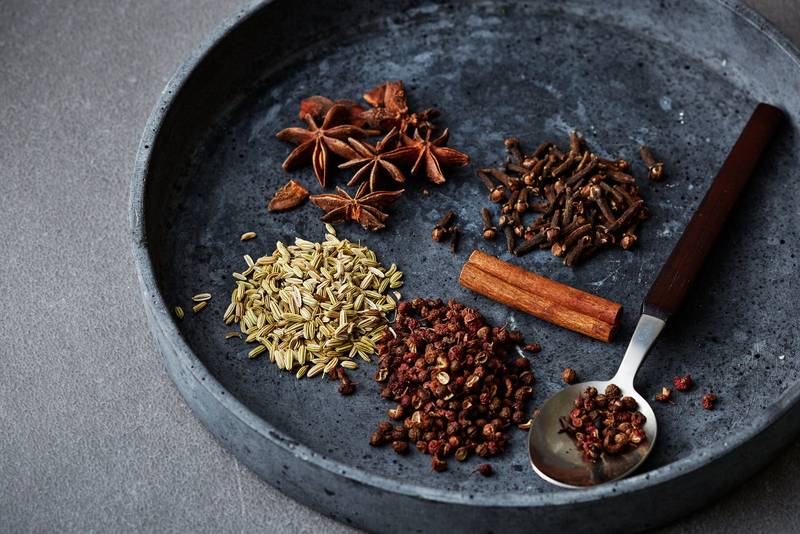 Five spices (Keto Recipe Analysis)
Spice it up, Asian style, with this classic combination that makes Chinese food taste amazing. Making your own spice blends keeps sugar out and flavor in. It's quick... homemade... customized... so now you're cooking!
Full recipe at www.dietdoctor.com
Compliance
Based on the Keto way of eating preset. View more Keto recipes.
Daily Limits
net carbs
10g of 15g (67%)
Daily Goals
total fat
3.7g of 100g (4%)
Ingredients
keyboard_arrow_down
1 tbsp ground cinnamon
1 tbsp (7.8g) Spices, Cinnamon, Ground

Daily Limits
net carbs
4.3g of 15g (29%)
Daily Goals
total fat
0.19g of 100g (0%)
keyboard_arrow_down
1 tbsp cloves
1 tbsp (6.3g) Spices, Cloves, Ground

Daily Goals
total fat
1.6g of 100g (2%)
keyboard_arrow_down
1 tbsp fennel seeds
1 tbsp (6g) Spices, Fennel Seed

Daily Limits
net carbs
1.5g of 15g (10%)
Daily Goals
total fat
1.8g of 100g (2%)
keyboard_arrow_down
1 tbsp star anise
1 tbsp (9g) Star Anise

keyboard_arrow_down
1 tbsp Szechuan pepper
1 tbsp (7.8g) Pepper, Banana, Raw

Daily Limits
net carbs
0.3g of 15g (2%)
Daily Goals
total fat
0.07g of 100g (0%)