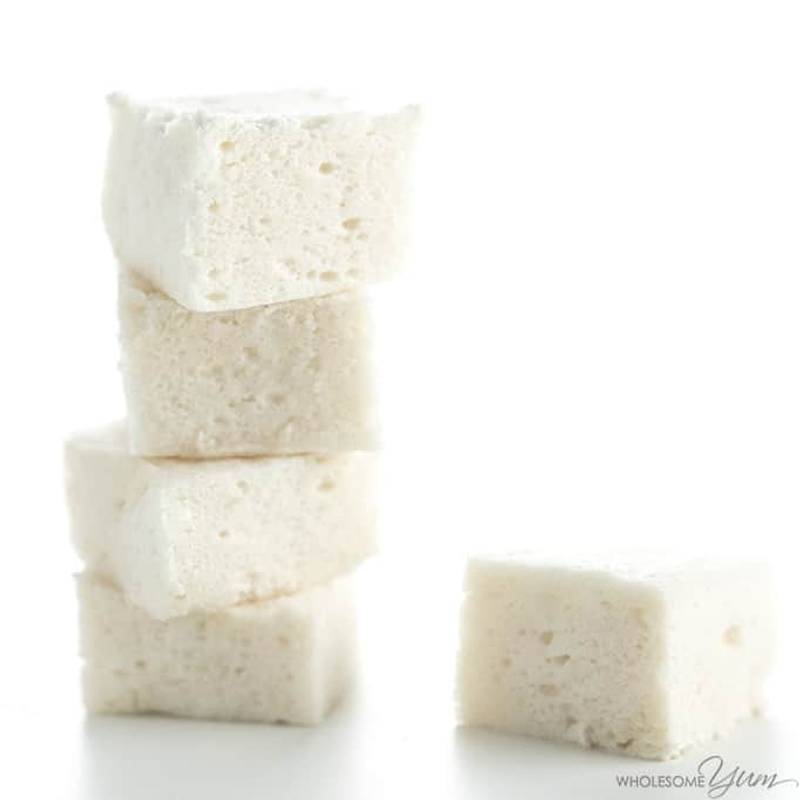 Sugar-Free MarshmallowsWithout Corn Syrup (Nightshade-Free Recipe Analysis)
You only need 4 ingredients to make homemade sugar-free marshmallows, no corn syrup needed!
Full recipe at www.wholesomeyum.com
Ingredients
keyboard_arrow_down
2 tbsp Gelatin
2 tbsp (2.6g) Gelatin Desserts, Dry Mix

keyboard_arrow_down
1 cup Water ((warm, divided))
1 cup (237g) Beverages, Water, Tap, Drinking

keyboard_arrow_down
1 1/2 cup Powdered erythritol
1.5 cup (288g) 100% Pure Erythritol Crystals

keyboard_arrow_down
1/2 tsp Vanilla liquid stevia
0.5 tsp (2.5ml) Liquid Stevia

Ingredients
DISTILLED WATER, STEVITA STEVIA EXTRACT, NATURAL STRAWBERRY FLAVOR, AND GRAPEFRUIT SEED EXTRACT (A NATURAL PRESERVATIVE).
May not be a complete representation of the selected category.
keyboard_arrow_down
1/4 tsp Sea salt
0.25 tsp (1.5g) Salt, Table

keyboard_arrow_down
2 tsp Vanilla extract
2 tsp (8.4g) Vanilla Extract