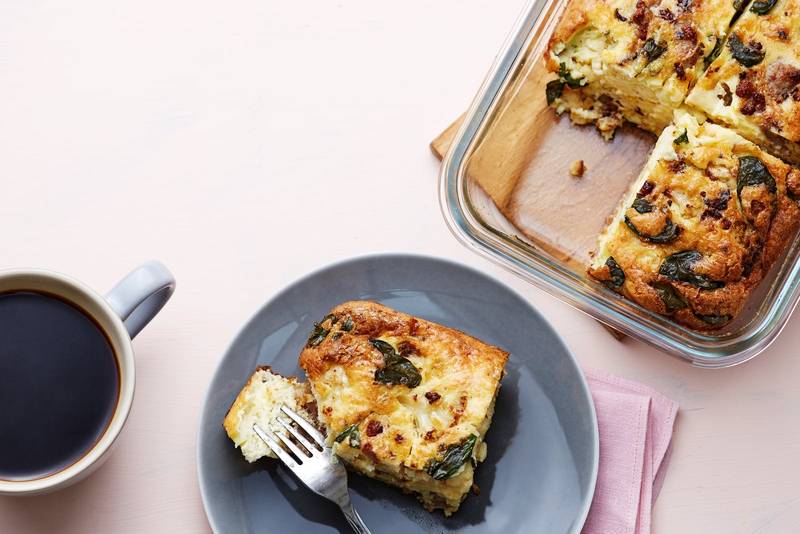 Keto Italian breakfast casserole (Keto Recipe Analysis)
Breakfast made easy. Cook up this keto casserole on Sunday and you're all set for breakfast for the coming week. Easy, protein packed, and durable enough to eat on-the-go. Did we mention sausage (and cauliflower)?
Full recipe at www.dietdoctor.com
Compliance
Based on the Keto way of eating preset. View more Keto recipes.
Daily Limits
net carbs
27g of 15g (181%)
Daily Goals
total fat
245g of 100g (245%)
Ingredients
keyboard_arrow_down
7 oz. cauliflower
7 oz (198g) Cauliflower, Raw

Daily Limits
net carbs
5.9g of 15g (39%)
Daily Goals
total fat
0.56g of 100g (1%)
keyboard_arrow_down
12 oz. fresh italian sausage
12 oz (340g) Sausage, Italian, Pork, Mild, Raw

Daily Limits
net carbs
10g of 15g (67%)
Daily Goals
total fat
83g of 100g (83%)
keyboard_arrow_down
2 oz. butter
2 oz (57g) Butter, Salted

Daily Limits
net carbs
0.03g of 15g (0%)
Daily Goals
total fat
46g of 100g (46%)
keyboard_arrow_down
8 eggs
8 medium (352g) Egg, Whole, Raw, Fresh

Daily Limits
net carbs
2.5g of 15g (17%)
Daily Goals
total fat
33g of 100g (33%)
keyboard_arrow_down
1 cup heavy whipping cream
1 cup (120g) Cream, Fluid, Heavy Whipping

Daily Limits
net carbs
3.4g of 15g (23%)
Daily Goals
total fat
43g of 100g (43%)
keyboard_arrow_down
5 oz. shredded cheese
5 oz (142g) Cheese, Parmesan, Shredded

Daily Limits
net carbs
4.8g of 15g (32%)
Daily Goals
total fat
39g of 100g (39%)
keyboard_arrow_down
1/4 cup fresh basil
0.25 cup (11g) Basil, Fresh

Daily Limits
net carbs
0.11g of 15g (1%)
Daily Goals
total fat
0.07g of 100g (0%)
keyboard_arrow_down
1/4 tsp salt
0.25 tsp (1.5g) Salt, Table

keyboard_arrow_down
1/4 tsp pepper
0.25 tsp (0.57g) Spices, Pepper, Black

Daily Limits
net carbs
0.22g of 15g (1%)
Daily Goals
total fat
0.02g of 100g (0%)