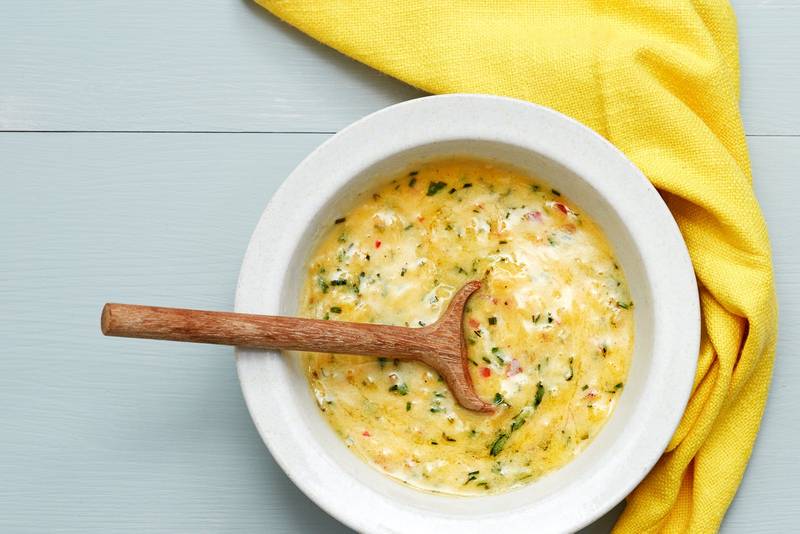 Cowboy sauce (Keto Recipe Analysis)
Prepare for a rodeo of flavor. This spiced up keto butter sauce will keep everyone around your campfire happy and satisfied. Enjoy life's necessities: Boots. Jeans. Cowboy sauce.
Full recipe at www.dietdoctor.com
Compliance
Based on the Keto way of eating preset. View more Keto recipes.
Daily Limits
net carbs
5.2g of 15g (35%)
Daily Goals
total fat
162g of 100g (162%)
Ingredients
keyboard_arrow_down
7 oz. butter
7 oz (198g) Butter, Salted

Daily Limits
net carbs
0.12g of 15g (1%)
Daily Goals
total fat
161g of 100g (161%)
keyboard_arrow_down
1 scallion, finely chopped
1 medium (4-1/8" long) (15g) Onions, Spring Or Scallions (includes Tops And Bulb), Raw

Daily Limits
net carbs
0.71g of 15g (5%)
Daily Goals
total fat
0.03g of 100g (0%)
keyboard_arrow_down
2 garlic cloves, finely chopped
2 clove (6g) Garlic, Raw

Daily Limits
net carbs
1.9g of 15g (12%)
Daily Goals
total fat
0.03g of 100g (0%)
keyboard_arrow_down
2 tbsp fresh parsley, finely chopped
2 tbsp (7.5g) Parsley, Fresh

Daily Limits
net carbs
0.23g of 15g (2%)
Daily Goals
total fat
0.06g of 100g (0%)
keyboard_arrow_down
1 tbsp fresh chives, finely chopped
1 tbsp (3g) Chives, Raw

Daily Limits
net carbs
0.06g of 15g (0%)
Daily Goals
total fat
0.02g of 100g (0%)
keyboard_arrow_down
1 tbsp fresh horseradish, grated
1 tbsp (15g) Horseradish, Prepared

Daily Limits
net carbs
1.2g of 15g (8%)
Daily Goals
total fat
0.1g of 100g (0%)
keyboard_arrow_down
1 tsp dried thyme
1 tsp (1g) Spices, Thyme, Dried

Daily Limits
net carbs
0.27g of 15g (2%)
Daily Goals
total fat
0.07g of 100g (0%)
keyboard_arrow_down
1 tsp paprika powder
1 tsp (2.3g) Spices, Paprika

Daily Limits
net carbs
0.44g of 15g (3%)
Daily Goals
total fat
0.3g of 100g (0%)
keyboard_arrow_down
1/2 tsp salt
0.5 tsp (3g) Salt, Table

keyboard_arrow_down
1/4 tsp ground black pepper
0.25 tsp (0.57g) Spices, Pepper, Black

Daily Limits
net carbs
0.22g of 15g (1%)
Daily Goals
total fat
0.02g of 100g (0%)
keyboard_arrow_down
1 pinch cayenne pepper
0.5 g (0.5g) Spices, Pepper, Red Or Cayenne

Daily Limits
net carbs
0.15g of 15g (1%)
Daily Goals
total fat
0.09g of 100g (0%)