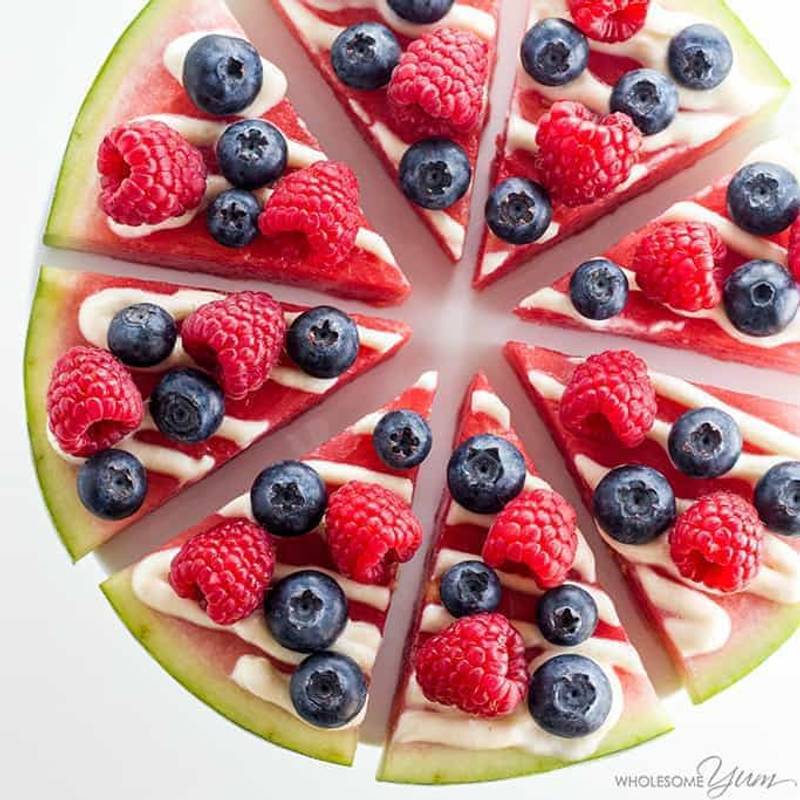 Watermelon Pizzawith Cream Cheese Icing (Sugar-free, Low Carb, Gluten-free) (Keto Recipe Analysis)
This quick and easy watermelon pizzawith berries, and cream cheese icing makes a perfect healthy summer dessert. Ready in 10 minutes!
Full recipe at www.wholesomeyum.com
Compliance
Based on the Keto way of eating preset. View more Keto recipes.
Daily Limits
net carbs
33g of 15g (219%)
Daily Goals
total fat
24g of 100g (24%)
Ingredients
keyboard_arrow_down
3 tbsp Cream cheese ((softened, cut into cubes))
3 tbsp (44g) Cheese, Cream

Daily Limits
net carbs
2.4g of 15g (16%)
Daily Goals
total fat
15g of 100g (15%)
keyboard_arrow_down
3 tbsp Heavy cream
3 tbsp (23g) Cream, Fluid, Heavy Whipping

Daily Limits
net carbs
0.64g of 15g (4%)
Daily Goals
total fat
8.1g of 100g (8%)
keyboard_arrow_down
2 tbsp Powdered erythritol ((or any powdered or liquid sweetener; adjust to taste))
2 tbsp (15g) Sugars, Powdered

Daily Limits
net carbs
15g of 15g (100%)
keyboard_arrow_down
4 tsp Lemon juice
4 tsp (20g) Lemon Juice, Raw

Daily Limits
net carbs
1.3g of 15g (9%)
Daily Goals
total fat
0.05g of 100g (0%)
keyboard_arrow_down
1/2 tsp Vanilla extract
0.5 tsp (2.1g) Vanilla Extract

Daily Limits
net carbs
0.27g of 15g (2%)
Daily Goals
total fat
0.001g of 100g (0%)
keyboard_arrow_down
1 round slice Watermelon ((1 thick))
1 watermelon balls (12g) Watermelon, Raw

Daily Limits
net carbs
0.87g of 15g (6%)
Daily Goals
total fat
0.02g of 100g (0%)
keyboard_arrow_down
1/2 cup Blueberries
0.5 cup (74g) Blueberries, Raw

Daily Limits
net carbs
8.9g of 15g (60%)
Daily Goals
total fat
0.24g of 100g (0%)
keyboard_arrow_down
1/2 cup Raspberries
0.5 cup (62g) Raspberries, Raw

Daily Limits
net carbs
3.3g of 15g (22%)
Daily Goals
total fat
0.4g of 100g (0%)