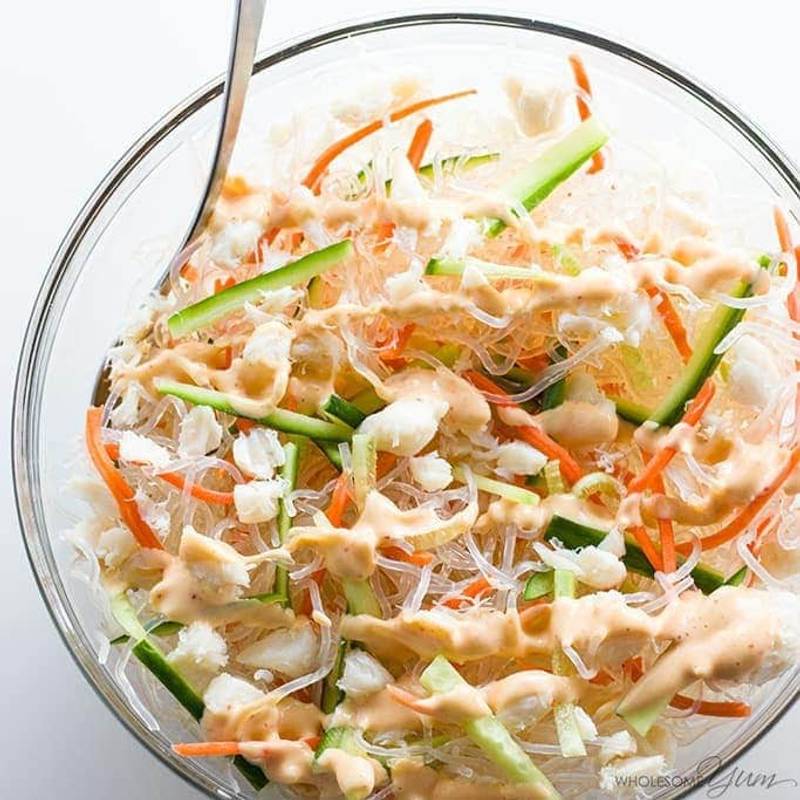 Kani Salad- Japanese Salad (Low Carb, Paleo) (Gluten-Free Nightshade-Free Recipe Analysis)
This Japanese kani saladwith real crab meat takes just 10 minutes to whip up. Healthy, creamy, and delicious!
Full recipe at www.wholesomeyum.com
Ingredients
keyboard_arrow_down
8 oz Lump crab meat
8 oz (227g) Lump Crab Meat

Ingredients
FRESH HAND-PICKED CRAB MEAT, WATER, SEA SALT, AND DISODIUM PHOSPHATE WITH CITRIC ACID.
May not be a complete representation of the selected category.
keyboard_arrow_down
12 oz Kelp noodles ((rinsed in warm water until soft))
12 oz (340g) Beverages, Water, Tap, Drinking

keyboard_arrow_down
1/2 cup Cucumber ((cut into matchstick pieces))
0.5 cup (67g) Cucumber, Peeled, Raw

keyboard_arrow_down
1/2 cup Carrots ((cut into matchstick pieces))
0.5 cup (64g) Carrots, Raw

keyboard_arrow_down
1/4 cup Mayonnaise
0.25 cup (55g) Salad Dressing, Mayonnaise, Regular

keyboard_arrow_down
1 tsp Lemon juice
1 tsp (5.1g) Lemon Juice, Raw

keyboard_arrow_down
1 tsp Toasted sesame oil
1 tsp (4.5g) Oil, Sesame, Salad Or Cooking

keyboard_arrow_down
1 tsp Sriracha ((to taste))
1 tsp (6.2g) Sauce, Hot Chile, Sriracha, Tuong Ot Sriracha