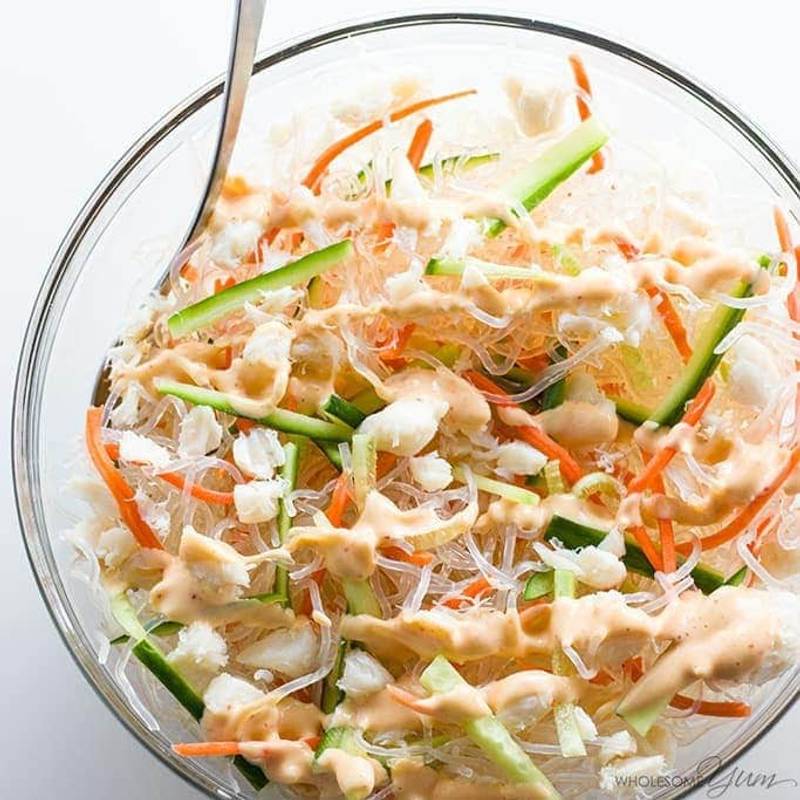 Kani Salad- Japanese Salad (Low Carb, Paleo) (Swank Diet Inspired Recipe Analysis)
This Japanese kani saladwith real crab meat takes just 10 minutes to whip up. Healthy, creamy, and delicious!
Full recipe at www.wholesomeyum.com
Ingredients
keyboard_arrow_down
8 oz Lump crab meat
8 oz (227g) Lump Crab Meat

Daily Limits
saturated fat
0g of 3g (0%)
Ingredients
FRESH HAND-PICKED CRAB MEAT, WATER, SEA SALT, AND DISODIUM PHOSPHATE WITH CITRIC ACID.
May not be a complete representation of the selected category.
keyboard_arrow_down
12 oz Kelp noodles ((rinsed in warm water until soft))
12 oz (340g) Beverages, Water, Tap, Drinking

Daily Limits
saturated fat
0g of 3g (0%)
keyboard_arrow_down
1/2 cup Cucumber ((cut into matchstick pieces))
0.5 cup (67g) Cucumber, Peeled, Raw

Daily Limits
saturated fat
0.05g of 3g (2%)
keyboard_arrow_down
1/2 cup Carrots ((cut into matchstick pieces))
0.5 cup (64g) Carrots, Raw

Daily Limits
saturated fat
0.02g of 3g (1%)
keyboard_arrow_down
1/4 cup Mayonnaise
0.25 cup (55g) Salad Dressing, Mayonnaise, Regular

Daily Limits
saturated fat
6.5g of 3g (215%)
keyboard_arrow_down
1 tsp Lemon juice
1 tsp (5.1g) Lemon Juice, Raw

Daily Limits
saturated fat
0.002g of 3g (0%)
keyboard_arrow_down
1 tsp Toasted sesame oil
1 tsp (4.5g) Oil, Sesame, Salad Or Cooking

Daily Limits
saturated fat
0.64g of 3g (21%)
keyboard_arrow_down
1 tsp Sriracha ((to taste))
1 tsp (6.2g) Sauce, Hot Chile, Sriracha, Tuong Ot Sriracha