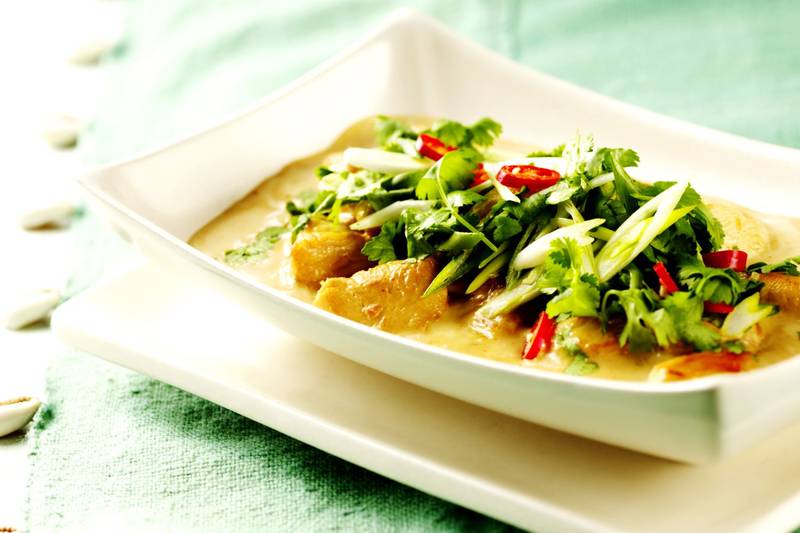 Thai Coconut Curry Chicken (Low Starch Recipe Analysis)
This delicious and easy Thai Coconut Curry Chicken is a great weeknight meal because it is prepared in one skillet and healthier for you.
Full recipe at www.verywellfit.com
Ingredients
keyboard_arrow_down
1 tablespoon coconut oil
1 tbsp (14g) Oil, Coconut

keyboard_arrow_down
1/2 medium onion (chopped)
0.5 medium (2-1/2" dia) (55g) Onions, Raw

keyboard_arrow_down
1 medium red bell pepper (cored, seeded, and chopped)
1 medium (approx 2-3/4" long, 2-1/2 dia.) (119g) Peppers, Sweet, Red, Raw

keyboard_arrow_down
2 tablespoons of curry paste (choose green, red, yellow, Massaman, or Panang depending on your preference for spicy or mild, savory or sweet curry)
2 tbsp (26g) Panang Curry Paste

Daily Limits
starchestimated
4g+ of 5g (80%+)
Ingredients
Red Chili (dried) Lemongrass, Garlic, Salt, Shallot, Galangal, Black Pepper, Peanut
May not be a complete representation of the selected category.
keyboard_arrow_down
1/4 tsp Salt to taste
0.25 tsp (1.5g) Salt, Table

keyboard_arrow_down
1 pound chicken thighs (boneless, skinless, cut in bite-sized pieces)
1 pound (454g) Chicken, Broilers Or Fryers, Thigh, Meat And Skin, Raw

Daily Limits
starchestimated
1.1g of 5g (23%)
keyboard_arrow_down
3/4 14 ounce-can coconut milk
12 ounce (340g) Nuts, Coconut Milk, Raw (liquid Expressed From Grated Meat And Water)

Daily Limits
starchestimated
0g of 5g (0%)
keyboard_arrow_down
12 ounces green beans (fresh or frozen)
12 ounces (340g) Beans, Snap, Green, Raw

keyboard_arrow_down
Juice of 1 lime
1 lime yields (44g) Lime Juice, Raw