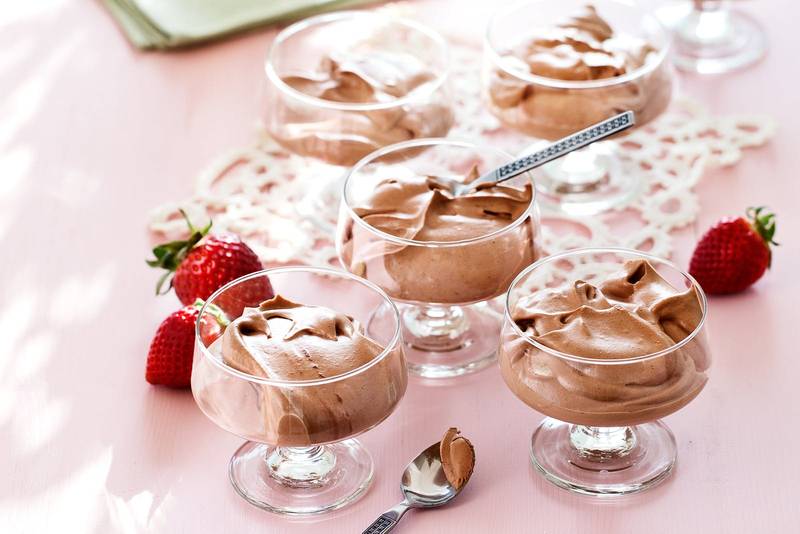 Low-carb chocolate mousse (Keto Recipe Analysis)
Mmmm... Mmmm... Mmmm... Chocolate, heavy cream, and egg yolk. This creamy mousse satisfies with taste and real food credentials. It's an old French delicacy and a modern low-carb treat.
Full recipe at www.dietdoctor.com
Compliance
Based on the Keto way of eating preset. View more Keto recipes.
Daily Limits
net carbs
44g of 15g (290%)
Daily Goals
total fat
96g of 100g (96%)
Ingredients
keyboard_arrow_down
1 1/4 cups heavy whipping cream
1.3 cup (150g) Cream, Fluid, Heavy Whipping

Daily Limits
net carbs
4.3g of 15g (28%)
Daily Goals
total fat
54g of 100g (54%)
keyboard_arrow_down
1/2 tsp vanilla extract
0.5 tsp (2.1g) Vanilla Extract

Daily Limits
net carbs
0.27g of 15g (2%)
Daily Goals
total fat
0.001g of 100g (0%)
keyboard_arrow_down
2 egg yolks
2 large (34g) Egg, Yolk, Raw, Fresh

Daily Limits
net carbs
1.2g of 15g (8%)
keyboard_arrow_down
1 pinch salt
0.5 g (0.5g) Salt, Table

keyboard_arrow_down
3 oz. dark chocolate with a minimum of 80% cocoa solids
3 oz (85g) Chocolate, Dark, 60-69% Cacao Solids

Daily Limits
net carbs
38g of 15g (252%)
Daily Goals
total fat
33g of 100g (33%)