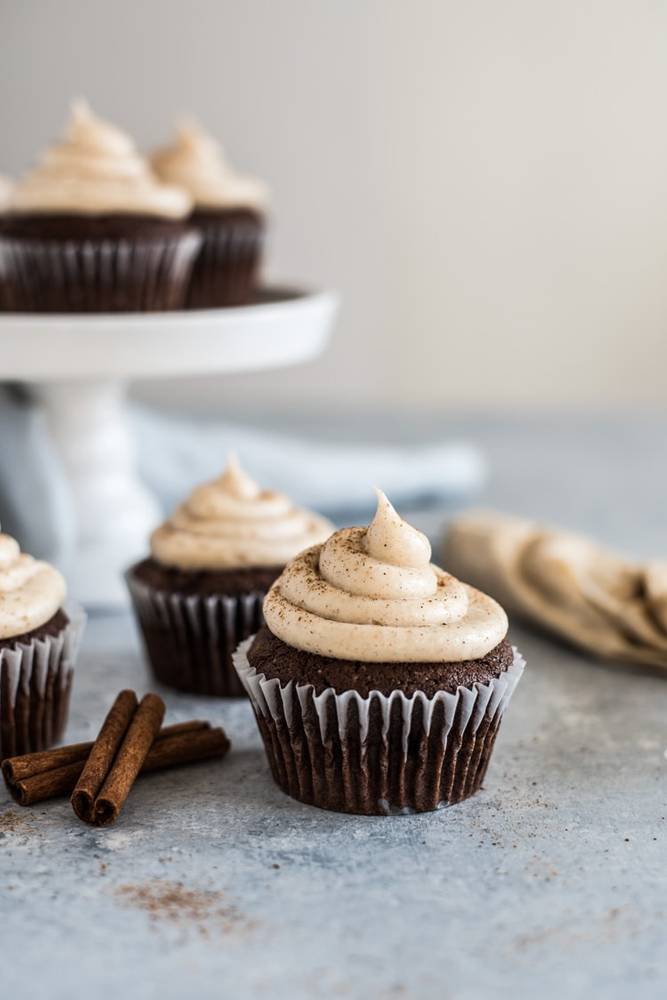 Cherry Chocolate Cupcakes with Cinnamon Cream Cheese Frosting (Nightshade-Free Recipe Analysis)
This Cherry Chocolate Cupcakeswith Cinnamon Cream Cheese Frosting is decadent, fluffy and perfectly moist. Treat yourself!
Full recipe at www.isabeleats.com
Ingredients
keyboard_arrow_down
1/2 cup all purpose flour
0.5 cup (60g) All Purpose Flour

Ingredients
BLEACHED WHEAT FLOUR MALTED BARLEY FLOUR, NIACIN, IRON, THIAMINE MONONITRATE, RIBOFLAVIN, FOLIC ACID.
May not be a complete representation of the selected category.
keyboard_arrow_down
1/4 cup unsweetened cocoa powder
0.25 cup (22g) Cocoa, Dry Powder, Unsweetened

keyboard_arrow_down
1 teaspoon baking powder
1 tsp (5g) Leavening Agents, Baking Powder, Low-sodium

keyboard_arrow_down
1 teaspoon ground cinnamon
1 tsp (2.6g) Spices, Cinnamon, Ground

keyboard_arrow_down
1/4 teaspoon salt
0.25 tsp (1.5g) Salt, Table

keyboard_arrow_down
1/4 cup (1/2 stick) unsalted butter, (softened)
0.25 cup (57g) Butter, Without Salt

keyboard_arrow_down
1/2 cup granulated sugar
0.5 cup (101g) Sugars, Granulated

keyboard_arrow_down
1 large egg
1 large (50g) Egg, Whole, Raw, Fresh

keyboard_arrow_down
1/3 cup milk
0.33 cup (81g) Milk, Whole, 3.25% Milkfat, With Added Vitamin D

keyboard_arrow_down
1/2 teaspoon vanilla extract
0.5 tsp (2.1g) Vanilla Extract

keyboard_arrow_down
1/2 cup cherries, (chopped)
0.5 cup (69g) Cherries, Sweet, Raw

keyboard_arrow_down
4 tablespoons unsalted butter, (softened)
4 tbsp (57g) Butter, Without Salt

keyboard_arrow_down
4 ounces cream cheese, (softened)
4 ounces (113g) Cheese, Cream

keyboard_arrow_down
1/2 teaspoon vanilla extract
0.5 tsp (2.1g) Vanilla Extract

keyboard_arrow_down
1/2 teaspoon ground cinnamon
0.5 tsp (1.3g) Spices, Cinnamon, Ground

keyboard_arrow_down
1 pinch of salt
0.5 g (0.5g) Salt, Table

keyboard_arrow_down
1 1/4 cups confectioner's sugar
1.3 cup (150g) Sugars, Powdered