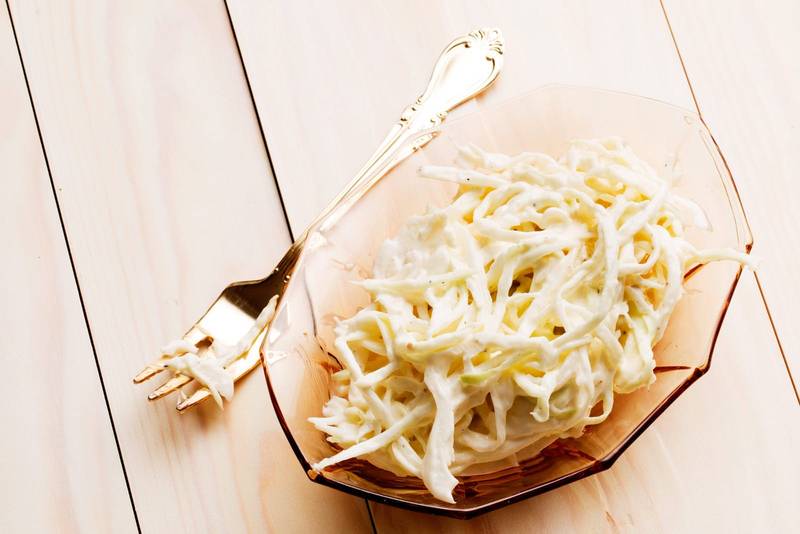 Simple keto coleslaw (Keto Recipe Analysis)
Coleslaw—the ultimate keto side dish. Goes with everything. Easy on the wallet. Comfortable and unpretentious. It's like those favorite jeans you pull on a couple of times a week.
Full recipe at www.dietdoctor.com
Compliance
Based on the Keto way of eating preset. View more Keto recipes.
Daily Limits
net carbs
16g of 15g (103%)
Daily Goals
total fat
166g of 100g (166%)
Ingredients
keyboard_arrow_down
15 oz. green cabbage
15 oz (425g) Cabbage, Raw

Daily Limits
net carbs
14g of 15g (94%)
Daily Goals
total fat
0.43g of 100g (0%)
keyboard_arrow_down
1 cup mayonnaise
1 cup (221g) Salad Dressing, Mayonnaise, Regular

Daily Limits
net carbs
1.3g of 15g (8%)
Daily Goals
total fat
165g of 100g (165%)
keyboard_arrow_down
1/2 tsp salt
0.5 tsp (3g) Salt, Table

keyboard_arrow_down
1/4 tsp ground black pepper
0.25 tsp (0.57g) Spices, Pepper, Black

Daily Limits
net carbs
0.22g of 15g (1%)
Daily Goals
total fat
0.02g of 100g (0%)