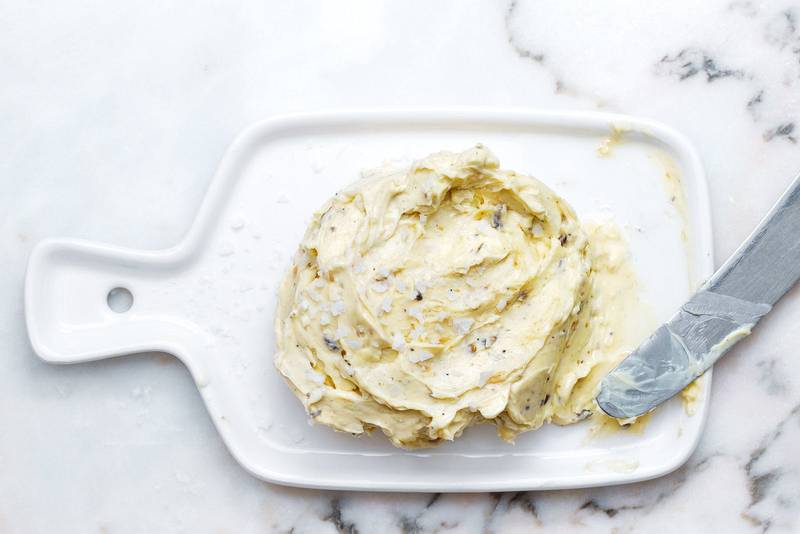 Anchovy butter (Keto Recipe Analysis)
Do you love butter but don't fancy anchovies? Give this tasty anchovy butter a chance and you will be pleasantly surprised by how good it is. The butter has a round saltiness without any intrusive fish flavor and oddly enough goes great with grilled meat and vegetables!
Full recipe at www.dietdoctor.com
Compliance
Based on the Keto way of eating preset. View more Keto recipes.
Daily Limits
net carbs
1.3g of 15g (9%)
Daily Goals
total fat
116g of 100g (116%)
Ingredients
keyboard_arrow_down
5 oz. butter
5 oz (142g) Butter, Salted

Daily Limits
net carbs
0.09g of 15g (1%)
Daily Goals
total fat
115g of 100g (115%)
keyboard_arrow_down
1 tbsp lemon juice
1 tbsp (15g) Lemon Juice, Raw

Daily Goals
total fat
0.04g of 100g (0%)
keyboard_arrow_down
1 oz. anchovies in oil
1 oz (28g) Fish, Anchovy, European, Raw

Daily Goals
total fat
1.4g of 100g (1%)
keyboard_arrow_down
1/4 tsp salt
0.25 tsp (1.5g) Salt, Table

keyboard_arrow_down
1/4 tsp ground black pepper to taste
0.25 tsp (0.57g) Spices, Pepper, Black

Daily Limits
net carbs
0.22g of 15g (1%)
Daily Goals
total fat
0.02g of 100g (0%)