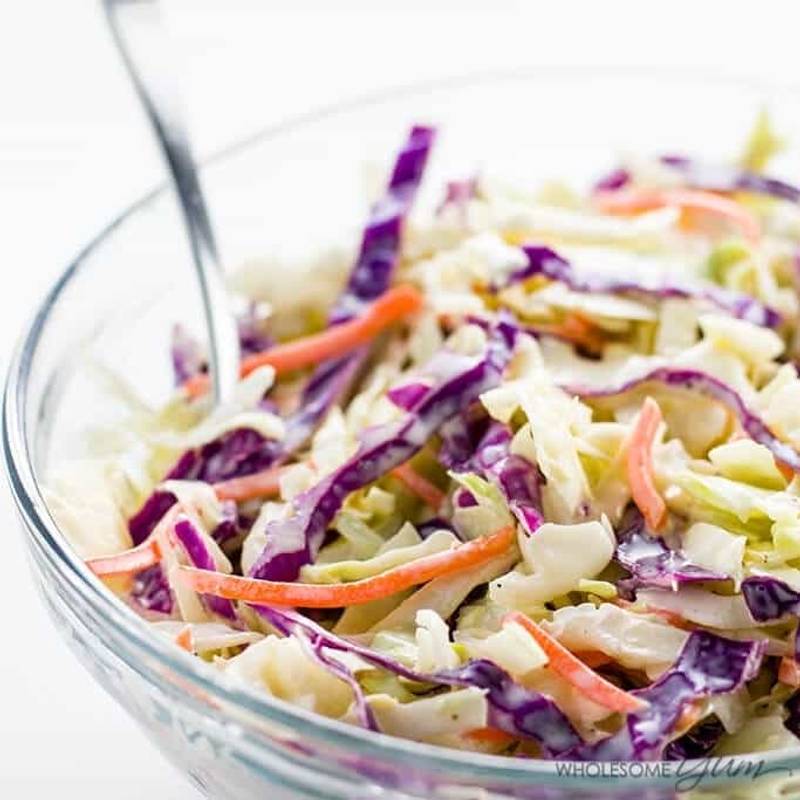 Paleo Low Carb Coleslaw (Sugar-free, Gluten-free) - 5 Ingredients (Keto Recipe Analysis)
This sugar-free, paleo, low carb coleslawneeds just 5 ingredients. Creamy, delicious, and you can make it in 5 minutes.
Full recipe at www.wholesomeyum.com
Compliance
Based on the Keto way of eating preset. View more Keto recipes.
Daily Limits
net carbs
21g of 15g (142%)
Daily Goals
total fat
42g of 100g (42%)
Ingredients
keyboard_arrow_down
4 cups Shredded coleslaw mix ((primarily cabbage with small amount of carrots))
4 cup (227g) Shredded Green Cabbage And Carrots Coleslaw

Daily Limits
net carbs
7.9g of 15g (53%)
Ingredients
GREEN CABBAGE, CARROTS.
May not be a complete representation of the selected category.
keyboard_arrow_down
1/4 cup Mayonnaise
0.25 cup (55g) Salad Dressing, Mayonnaise, Regular

Daily Limits
net carbs
0.31g of 15g (2%)
Daily Goals
total fat
41g of 100g (41%)
keyboard_arrow_down
2 tbsp Apple cider vinegar
2 tbsp (30g) Vinegar, Cider

Daily Limits
net carbs
0.28g of 15g (2%)
keyboard_arrow_down
1 tbsp Powdered erythritol
1 tbsp (12g) 100% Pure Erythritol Crystals

Daily Limits
net carbs
12g of 15g (80%)
keyboard_arrow_down
1 tsp Celery seed
1 tsp (2g) Spices, Celery Seed

Daily Limits
net carbs
0.59g of 15g (4%)
Daily Goals
total fat
0.51g of 100g (1%)
keyboard_arrow_down
1/4 tsp Sea salt ((to taste))
0.25 tsp (1.5g) Salt, Table

keyboard_arrow_down
1/4 tsp Black pepper ((to taste))
0.25 tsp (0.57g) Spices, Pepper, Black

Daily Limits
net carbs
0.22g of 15g (1%)
Daily Goals
total fat
0.02g of 100g (0%)