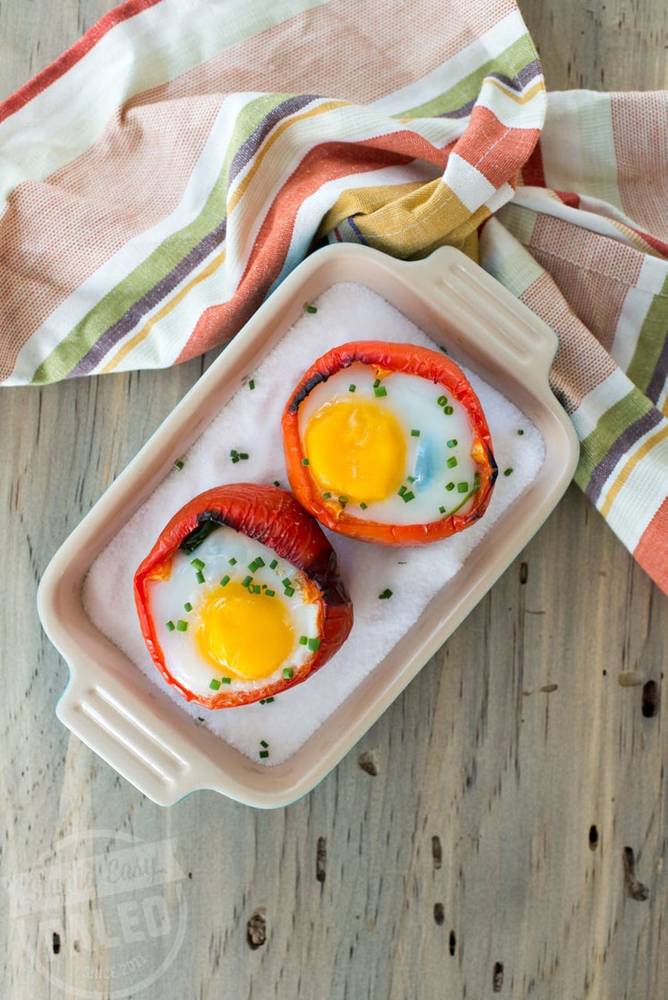 Breakfast Stuffed Peppers (Paleo, Low Carb, Gluten-Free) (Keto Recipe Analysis)
Make these Breakfast Stuffed Peppersfor a delicious way to start your day! Paleo and Whole30-friendly. These can be made and frozen ahead of time for a convenient work day breakfast. Learn how!
Full recipe at www.stephgaudreau.com
Compliance
Based on the Keto way of eating preset. View more Keto recipes.
Daily Limits
net carbs
9.9g of 15g (66%)
Daily Goals
total fat
21g of 100g (21%)
Ingredients
keyboard_arrow_down
4 red bell peppers (any color bell pepper works)
4 PIECES (38g) Tri Color Bell Peppers

Daily Limits
net carbs
1.8g of 15g (12%)
Ingredients
BELL PEPPERS.
May not be a complete representation of the selected category.
keyboard_arrow_down
16 oz spinach (chopped, frozen)
16 oz (454g) Spinach, Raw

Daily Limits
net carbs
6.5g of 15g (43%)
Daily Goals
total fat
1.8g of 100g (2%)
keyboard_arrow_down
4 eggs (large)
4 large (200g) Egg, Whole, Raw, Fresh

Daily Limits
net carbs
1.4g of 15g (10%)
Daily Goals
total fat
19g of 100g (19%)
keyboard_arrow_down
1/4 tsp Sea salt
0.25 tsp (1.5g) Salt, Table

keyboard_arrow_down
1/4 tsp pepper (to taste)
0.25 tsp (0.57g) Spices, Pepper, Black

Daily Limits
net carbs
0.22g of 15g (1%)
Daily Goals
total fat
0.02g of 100g (0%)