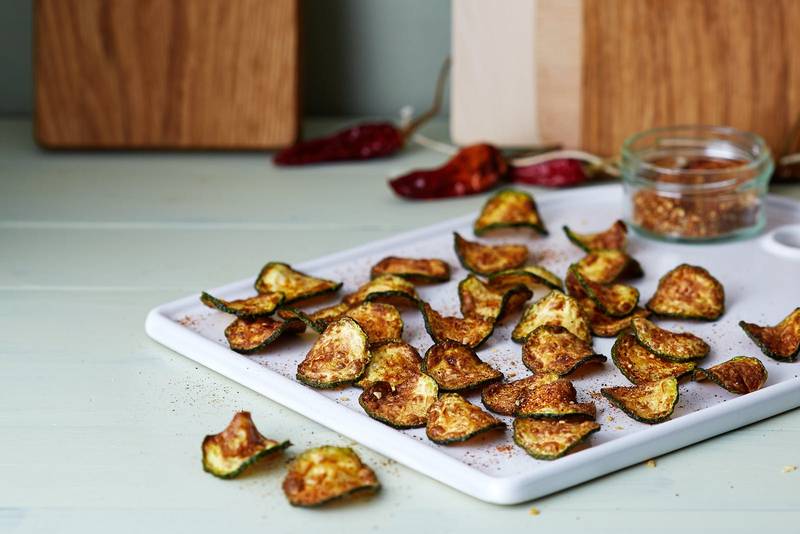 Low-carb zucchini nacho chips (Vegan Keto Recipe Analysis)
Dip. Crunch. Repeat. What's not to love about a crispy, seasoned chip that is finger-licking-good, whether served straight up or dunked into a dreamy mixture of salsa and sour cream? These are the perfect low-carb potato chip alternative for a casual, Tex-Mex-loving crowd.
Full recipe at www.dietdoctor.com
Ingredients
keyboard_arrow_down
1 large zucchini
1 large (323g) Squash, Summer, Zucchini, Includes Skin, Raw

Daily Limits
net carbs
6.8g of 15g (45%)
keyboard_arrow_down
1/4 tsp salt
0.25 tsp (1.5g) Salt, Table

keyboard_arrow_down
1 1/2 cups coconut oil
1.5 cup (326g) Oil, Coconut

Daily Goals
total fat
323g of 100g (323%)
keyboard_arrow_down
1 tbsp Tex-Mex seasoning
1 tbsp (12g) Tex-mex Chipotle Seasoning

Ingredients
SEA SALT, SPICES, DEHYDRATED GARLIC AND ONION, DEHYDRATED RED BELL PEPPERS, NATURAL HICKORY SMOKE FLAVOR, CUMIN OIL, CALCIUM SILICATE ADDED TO PREVENT CAKING.
May not be a complete representation of the selected category.