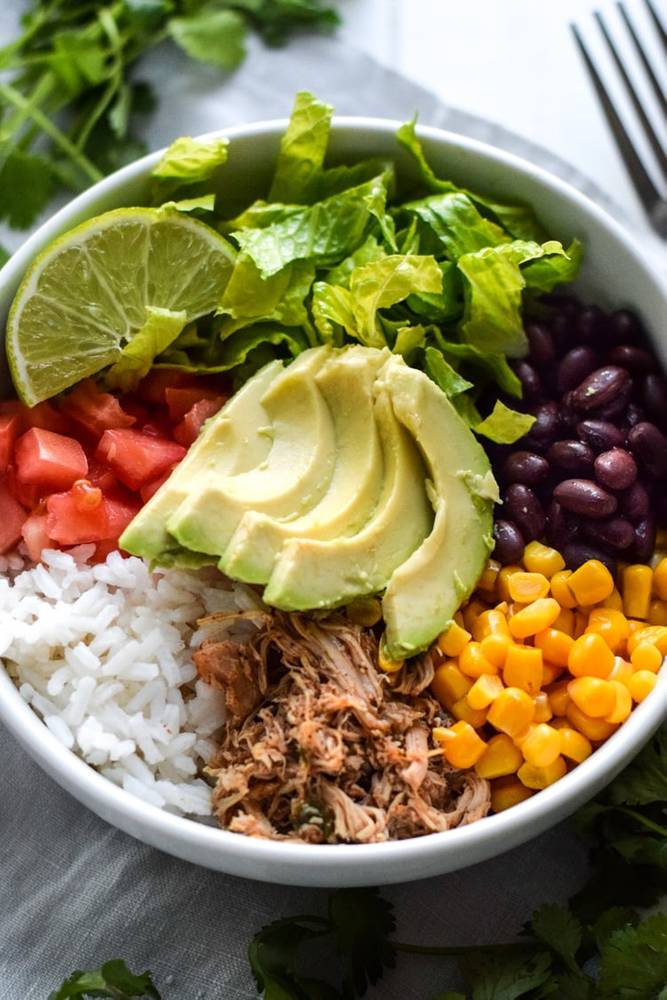 Healthy Chicken Carnitas Burrito Bowl (Gluten-Free Recipe Analysis)
This Healthy Chicken Carnitas Burrito Bowl is easy to make, inexpensive and perfect for meal prep day. Ready in under 20 minutes and is also gluten free.
Full recipe at www.isabeleats.com
Ingredients
keyboard_arrow_down
1/4 cup Mexican slow cooker chicken carnitas, (or any leftover shredded chicken)
0.25 cup (1.8g) Chicken Slow Cooker

Ingredients
FOOD STARCH MODIFIED, HYDROLYZED SOY PROTEIN, SALT, SUGAR, NONFAT MILK SOLIDS, DRIED ONION AND GARLIC, SILICONE DIOXIDE (PREVENTS CAKING), ARTIFICIAL FLAVOR, CARAMEL COLOR, TURMERIC, SPICES, SPICE EXTRACTIVES, CITRIC ACID.
May not be a complete representation of the selected category.
keyboard_arrow_down
1/4 cup black beans, (cooked)
0.25 cup (43g) Beans, Black, Mature Seeds, Cooked, Boiled, With Salt

keyboard_arrow_down
1/4 cup whole kernel corn, (cooked)
0.25 cup (35g) Corn, Yellow, Whole Kernel, Frozen, Microwaved

keyboard_arrow_down
1/4 cup plum tomatoes, (diced)
0.25 cup (37g) Tomatoes, Red, Ripe, Raw, Year Round Average

keyboard_arrow_down
1/2 avocado, (thinly sliced)
0.5 avocado, NS as to Florida or California (101g) Avocados, Raw, All Commercial Varieties

keyboard_arrow_down
1/4 cup white rice, (cooked)
0.25 cup (40g) Rice, White, Long-grain, Regular, Enriched, Cooked

keyboard_arrow_down
1/2 cup romaine lettuce, (chopped)
0.5 cup (24g) Lettuce, Cos Or Romaine, Raw