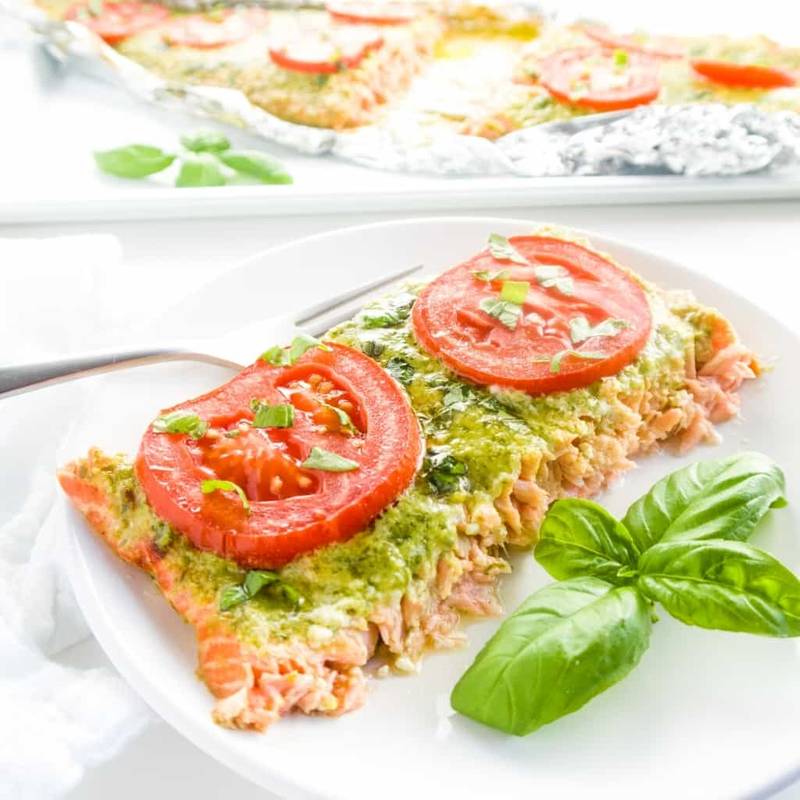 Pesto Salmon Milano (Low Carb, Gluten-free) - 4 Ingredients (Keto Recipe Analysis)
This easy pesto salmon milanowith tomatoes goes from preparation to your table in only 30 minutes. Low carb & gluten-free, with only 4 ingredients.
Full recipe at www.wholesomeyum.com
Compliance
Based on the Keto way of eating preset. View more Keto recipes.
Daily Limits
net carbs
13g of 15g (84%)
Daily Goals
total fat
163g of 100g (163%)
Ingredients
keyboard_arrow_down
2 1/2 lb Salmon ((large filet))
2.5 lb (1134g) Salmon Fillets

Daily Goals
total fat
25g of 100g (25%)
Ingredients
SALMON FILLETS.
May not be a complete representation of the selected category.
keyboard_arrow_down
1/2 cup Basil pesto
0.5 cup (124g) Sauce, Pesto, Classico, Basil Pesto, Ready-to-serve

Daily Goals
total fat
45g of 100g (45%)
keyboard_arrow_down
1/2 cup Butter ((preferably grass-fed; softened))
0.5 cup (114g) Butter, Salted

Daily Limits
net carbs
0.07g of 15g (0%)
Daily Goals
total fat
92g of 100g (92%)
keyboard_arrow_down
2 medium Tomato ((sliced))
2 medium whole (2-3/5" dia) (246g) Tomatoes, Red, Ripe, Raw, Year Round Average

Daily Limits
net carbs
6.6g of 15g (44%)
Daily Goals
total fat
0.49g of 100g (0%)