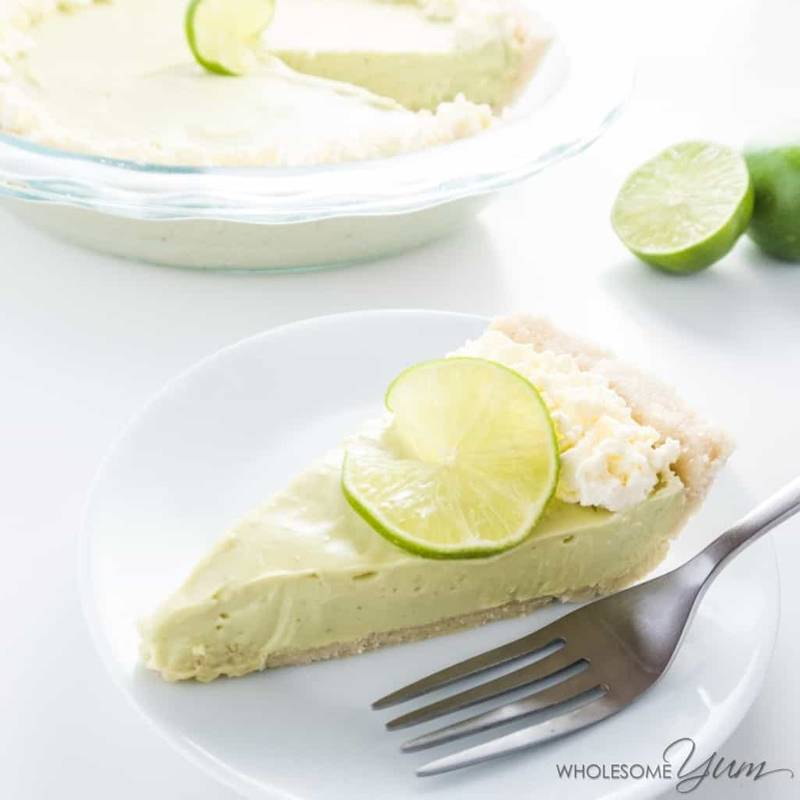 Easy No-Bake Key Lime Pie (Low Carb, Gluten-free) (Nightshade-Free Recipe Analysis)
This creamy, refreshing key lime pierequires only 7 ingredients, 10 minutes of prep time, and no baking at all. Low carb, gluten-free, and sugar-free.
Full recipe at www.wholesomeyum.com
Ingredients
keyboard_arrow_down
2 cups Blanched almond flour
2 cup (224g) Blanched Almond Flour

Ingredients
BLANCHED ALMOND FLOUR
May not be a complete representation of the selected category.
keyboard_arrow_down
1/3 cup Coconut oil ((melted))
0.33 cup (73g) Oil, Coconut

keyboard_arrow_down
3 tbsp Erythritol
3 tbsp (36g) 100% Pure Erythritol Crystals

keyboard_arrow_down
2 medium Avocado ((very ripe))
2 avocado, NS as to Florida or California (402g) Avocados, Raw, All Commercial Varieties

keyboard_arrow_down
12 oz Cream cheese ((softened at room temperature or by heating))
12 oz (340g) Cheese, Cream

keyboard_arrow_down
4 small Limes
4 fruit (2" dia) (268g) Limes, Raw

keyboard_arrow_down
1 cup Powdered erythritol
1 cup (192g) 100% Pure Erythritol Crystals

keyboard_arrow_down
1 tsp Vanilla extract
1 tsp (4.2g) Vanilla Extract