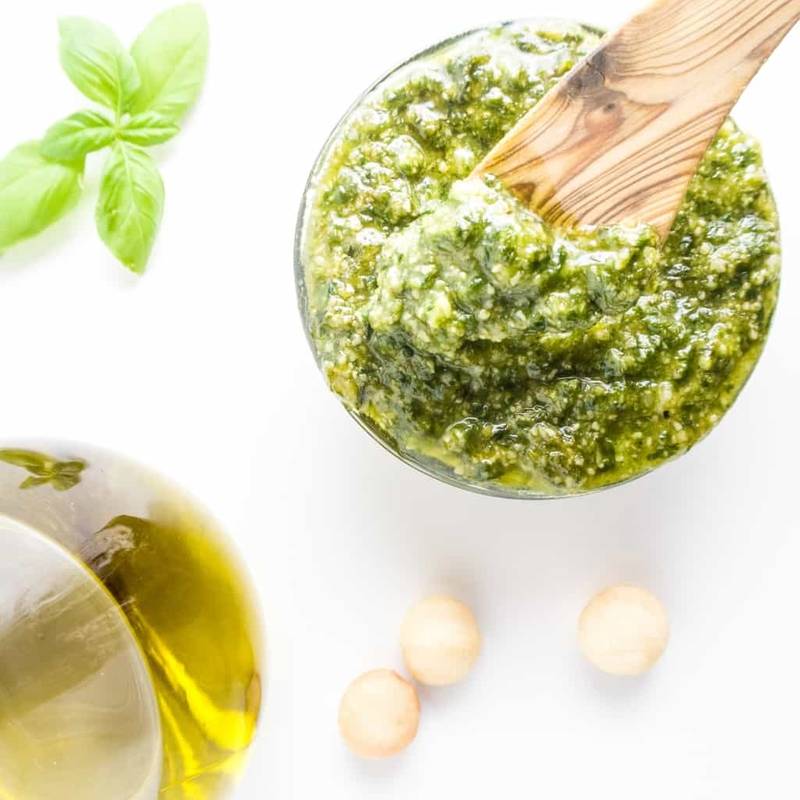 2-Minute Macadamia Nut Pesto (Low Carb, Gluten-free) (Keto Recipe Analysis)
This easy macadamia nut pesto is naturally low carb and gluten-free. Macadamia nuts provide extra rich flavor and it takes just two minutes to whip up.
Full recipe at www.wholesomeyum.com
Compliance
Based on the Keto way of eating preset. View more Keto recipes.
Daily Limits
net carbs
6.1g of 15g (41%)
Daily Goals
total fat
114g of 100g (114%)
Ingredients
keyboard_arrow_down
1/3 cup Macadamia nuts ((raw or roasted))
0.33 cup (45g) Nuts, Macadamia Nuts, Raw

Daily Limits
net carbs
2.3g of 15g (16%)
Daily Goals
total fat
34g of 100g (34%)
keyboard_arrow_down
2 cups Fresh basil ((packed))
2 cup (85g) Basil, Fresh

Daily Limits
net carbs
0.89g of 15g (6%)
Daily Goals
total fat
0.54g of 100g (1%)
keyboard_arrow_down
1/3 cup Grated parmesan cheese
0.33 cup (27g) Cheese, Parmesan, Shredded

Daily Limits
net carbs
0.91g of 15g (6%)
Daily Goals
total fat
7.3g of 100g (7%)
keyboard_arrow_down
1/3 cup Olive oil
0.33 cup (72g) Oil, Olive, Salad Or Cooking

Daily Goals
total fat
72g of 100g (72%)
keyboard_arrow_down
2 cloves Garlic ((minced or coarsely chopped))
2 clove (6g) Garlic, Raw

Daily Limits
net carbs
1.9g of 15g (12%)
Daily Goals
total fat
0.03g of 100g (0%)
keyboard_arrow_down
1/4 tsp Sea salt
0.25 tsp (1.5g) Salt, Table

keyboard_arrow_down
1/8 tsp Black pepper
0.13 tsp (0.29g) Spices, Pepper, Black

Daily Limits
net carbs
0.11g of 15g (1%)
Daily Goals
total fat
0.009g of 100g (0%)