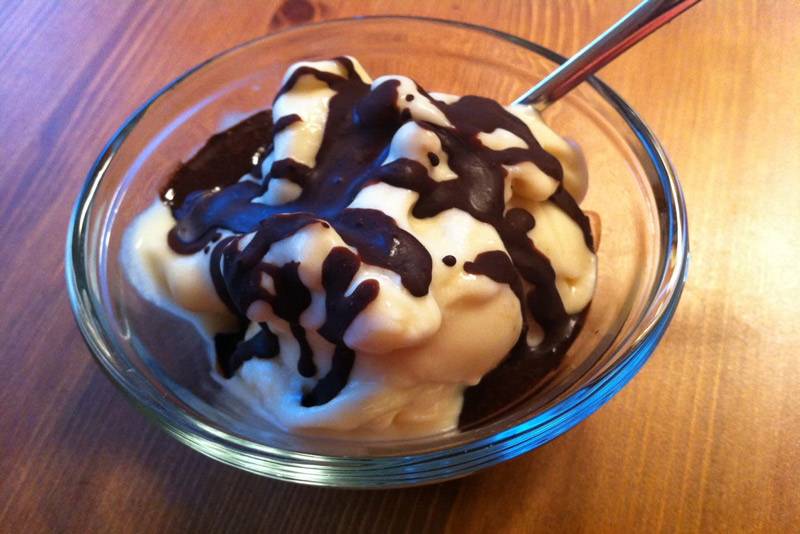 Banana Ice Cream with Chocolate Shell (Vegan Gluten-Free Recipe Analysis)
Banana Nice Cream with Chocolate Shell is a perfect for making in tiny batches when you want just a bit of a dairy-free sweet treat.
Full recipe at www.stephgaudreau.com
Ingredients
keyboard_arrow_down
1 frozen banana
1 medium (7" to 7-7/8" long) (118g) Bananas, Raw

keyboard_arrow_down
2-3 tbsp coconut milk
2 tbsp (30g) Nuts, Coconut Milk, Raw (liquid Expressed From Grated Meat And Water)

keyboard_arrow_down
1/2 tsp vanilla extract
0.5 tsp (2.1g) Vanilla Extract

keyboard_arrow_down
1/2 tbsp coconut oil
0.5 tbsp (6.8g) Oil, Coconut

keyboard_arrow_down
1/2 tbsp cocoa powder
0.5 tbsp (2.7g) Cocoa, Dry Powder, Unsweetened

keyboard_arrow_down
Pinch of ground coffee (optional)
0.5 g (0.5g) Ground Coffee

Ingredients
ARABICA COFFEE, FRUIT AND HERBAL BLEND (ORGANIC GUAVA, ORGANIC HOLY BASIL, ORGANIC CITRUS LEMON).
May not be a complete representation of the selected category.