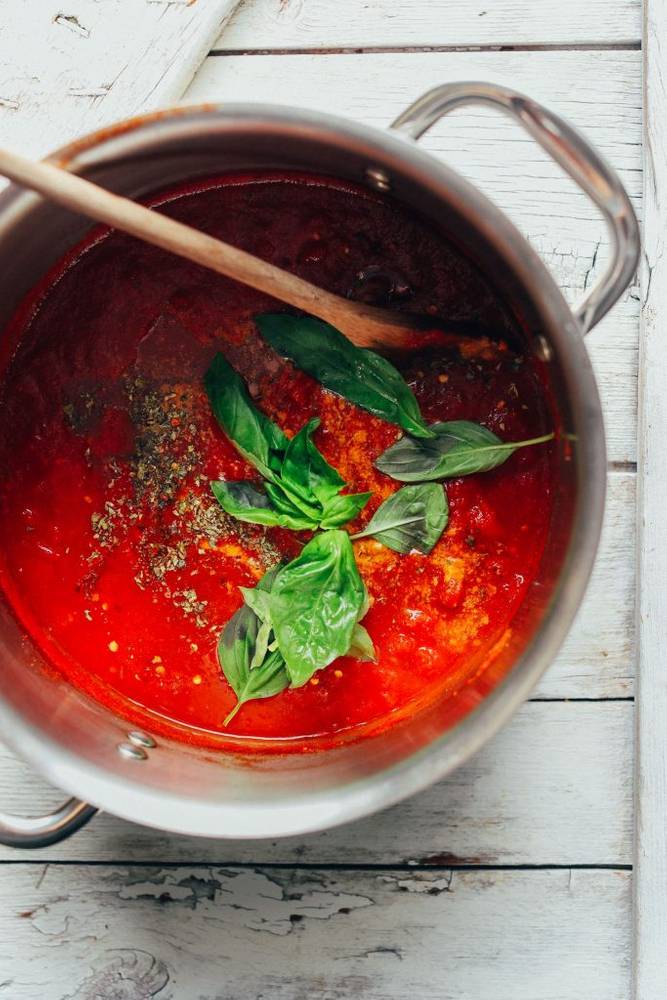 Easy 1-Pot Marinara Sauce (Vegan Gluten-Free Recipe Analysis)
Easy, 1-pot marinara sauce that's rich in flavor, color and nutrients. Simply seasoned, cooked low and slow, and perfect for any Italian dish!
Full recipe at minimalistbaker.com
Ingredients
keyboard_arrow_down
2 Tbsp olive oil ((sub water if avoiding oil))
2 tbsp (30g) Beverages, Water, Tap, Drinking

keyboard_arrow_down
2 large cloves garlic ((minced))
2 clove (6g) Garlic, Raw

keyboard_arrow_down
2 28-ounce cans peeled crushed or diced tomatoes without salt ((I prefer San Marzano but use any good organic brand, such as Muir Glen))
56 ounce (1588g) Tomatoes, Crushed, Canned

keyboard_arrow_down
1 tsp dried or fresh oregano
1 tsp (1g) Spices, Oregano, Dried

keyboard_arrow_down
1 Tbsp coconut sugar ((or sub stevia or maple syrup to taste // omit if avoiding sugar))
1 tbsp (14g) Stevia Sweetener

Ingredients
ERYTHRITOL, DEXTROSE WITH MALTODEXTRIN, REBIANA, NATURAL FLAVORS.
May not be a complete representation of the selected category.
keyboard_arrow_down
3/4 - 1 tsp sea salt
0.75 tsp (4.5g) Salt, Table

keyboard_arrow_down
1/4 tsp red pepper flake ((reduce or increase according to spice preference))
0.25 tsp (0.78g) Peppers, Sweet, Red, Raw

keyboard_arrow_down
1/2 cup roughly chopped fresh basil ((plus more for serving))
0.5 cup (21g) Basil, Fresh

keyboard_arrow_down
1-3 Tbsp nutritional yeast ((optional))
1 tbsp (11g) Savory Nutritional Yeast Flakes

Ingredients
DRY YEAST, NIACIN, PYRIDOXINE HYDROCHLORIDE, THIAMIN HYDROCHLORIDE,RIBOFLAVIN, FOLIC ACID AND B12.
May not be a complete representation of the selected category.
keyboard_arrow_down
3-4 Tbsp tomato paste ((optional // for richness / depth of flavor))
3 tbsp (28g) Tomatoes, Red, Ripe, Raw, Year Round Average