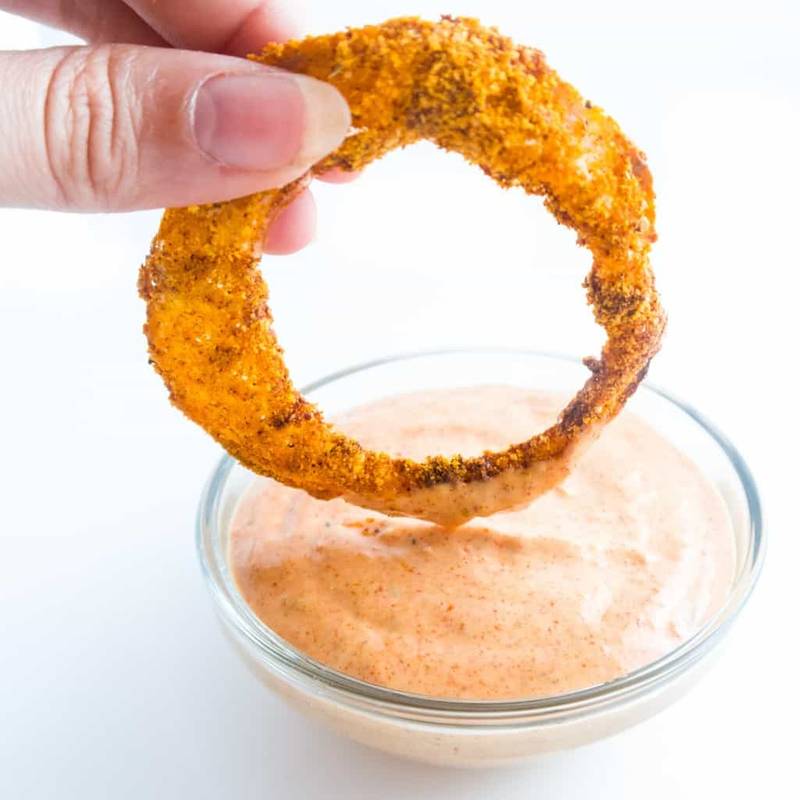 Low Carb Dipping Sauce for Appetizers (Paleo, Gluten-free) (Swank Diet Inspired Recipe Analysis)
A low carb dip that's paleo & gluten-free, too! This spicy low carb dipping sauce is perfect for all kinds of appetizers, especially onion rings.
Full recipe at www.wholesomeyum.com
Ingredients
keyboard_arrow_down
1/2 cup Mayonnaise
0.5 cup (110g) Salad Dressing, Mayonnaise, Regular

Daily Limits
saturated fat
13g of 3g (431%)
keyboard_arrow_down
1 tbsp Ketchup
1 tbsp (17g) Ketchup

Daily Limits
saturated fat
0g of 3g (0%)
Ingredients
TOMATO CONCENTRATE (WATER AND TOMATO PASTE), HIGH FRUCTOSE CORN SYRUP, CORN SYRUP, VINEGAR, SALT, ONION POWDER, SPICE, NATURAL FLAVORING.
May not be a complete representation of the selected category.
keyboard_arrow_down
1 tbsp Horseradish
1 tbsp (15g) Horseradish, Prepared

Daily Limits
saturated fat
0.01g of 3g (0%)
keyboard_arrow_down
1 tsp Mustard
1 tsp (5g) Mustard, Prepared, Yellow

Daily Limits
saturated fat
0.01g of 3g (0%)
keyboard_arrow_down
1 tsp Worcestershire sauce
1 tsp (5.7g) Sauce, Worcestershire

Daily Limits
saturated fat
0g of 3g (0%)
keyboard_arrow_down
1 tsp Paprika
1 tsp (2.3g) Spices, Paprika

Daily Limits
saturated fat
0.05g of 3g (2%)
keyboard_arrow_down
1 tsp Dried oregano
1 tsp (1g) Spices, Oregano, Dried

Daily Limits
saturated fat
0.02g of 3g (1%)
keyboard_arrow_down
1/2 tsp Cayenne pepper ((or less if you don't want it too spicy))
0.5 tsp (0.9g) Spices, Pepper, Red Or Cayenne

Daily Limits
saturated fat
0.03g of 3g (1%)
keyboard_arrow_down
1/4 tsp Sea salt
0.25 tsp (1.5g) Salt, Table

Daily Limits
saturated fat
0g of 3g (0%)