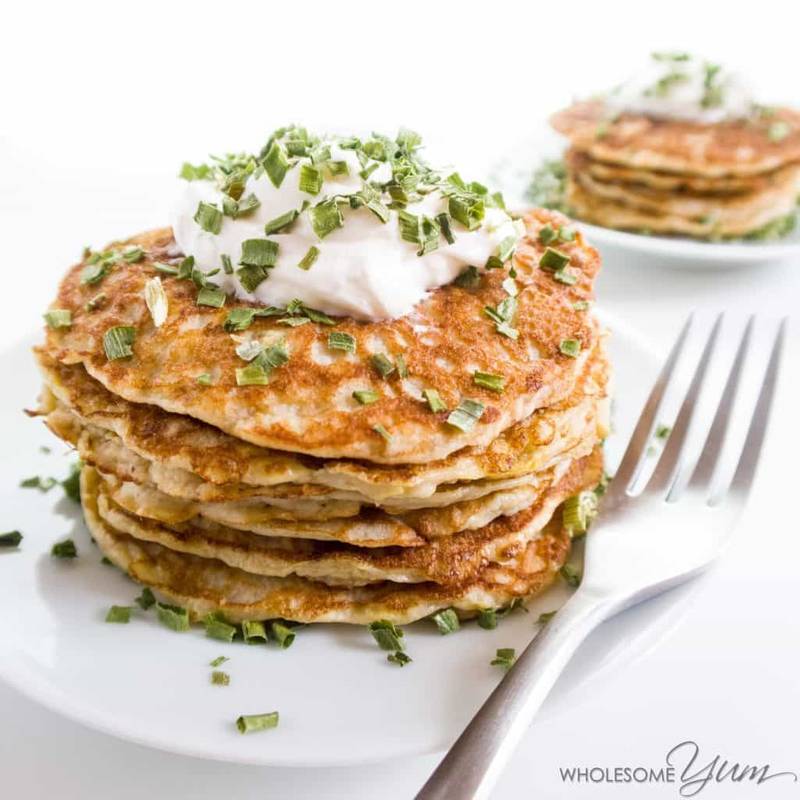 Savory Squash Kefir Pancakes (Low Carb, Gluten-free) (Gluten-Free Nightshade-Free Recipe Analysis)
These savory squash kefir pancakes are extra fluffy, and super easy with just a few ingredients. Naturally low carb & gluten-free.
Full recipe at www.wholesomeyum.com
Ingredients
keyboard_arrow_down
3 cups Yellow squash ((shredded))
3 cup (420g) Squash, Winter, Butternut, Raw

keyboard_arrow_down
3 large Egg
3 large (150g) Egg, Whole, Raw, Fresh

keyboard_arrow_down
1/2 cup Kefir
0.5 cup (122g) Kefir, Lowfat, Plain, Lifeway

keyboard_arrow_down
3/4 cup Blanched almond flour
0.75 cup (84g) Blanched Almond Flour

Ingredients
BLANCHED ALMOND FLOUR
May not be a complete representation of the selected category.
keyboard_arrow_down
1/2 tsp Baking soda
0.5 tsp (2.3g) Leavening Agents, Baking Soda

keyboard_arrow_down
1 tsp Sea salt
1 tsp (6g) Salt, Table

keyboard_arrow_down
2 tbsp Olive oil ((or any oil of choice for frying))
2 tbsp (27g) Oil, Olive, Salad Or Cooking