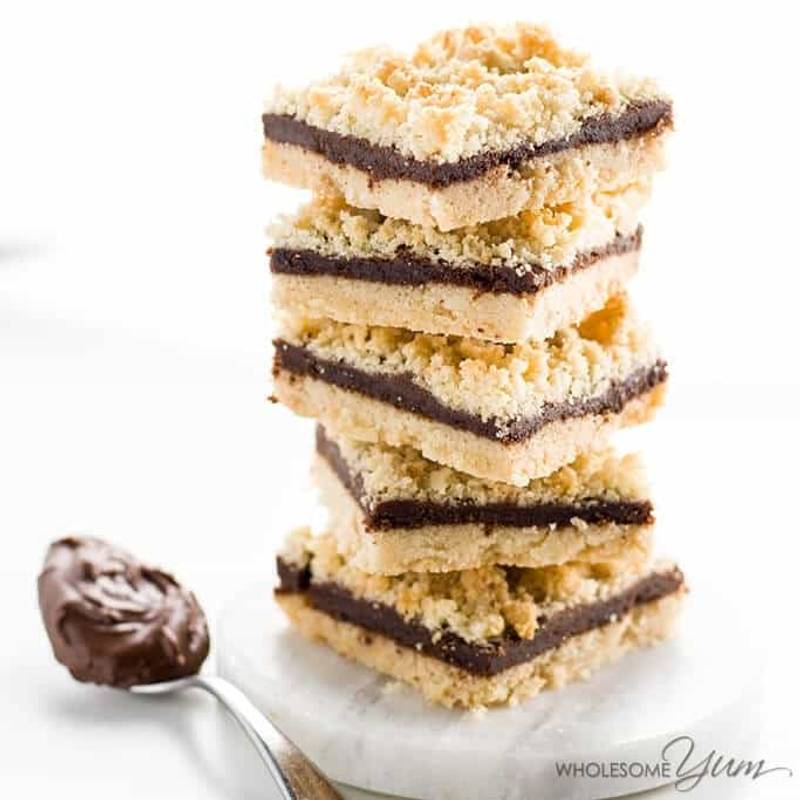 5-Ingredient Sugar-free Nutella Bars (Low Carb, Paleo) (Vegan Keto Gluten-Free Nightshade-Free Recipe Analysis)
These rich, buttery sugar-free Nutella bars are paleo, low carb, and made with only five ingredients. But you'll never believe it when you taste them!
Full recipe at www.wholesomeyum.com
Ingredients
keyboard_arrow_down
2 1/2 cups Blanched almond flour
2.5 cup (280g) Blanched Almond Flour

Daily Limits
net carbs
30g of 15g (200%)
Daily Goals
total fat
140g of 100g (140%)
Ingredients
BLANCHED ALMOND FLOUR
May not be a complete representation of the selected category.
keyboard_arrow_down
1/2 cup Erythritol ((or equivalent granular sweetener of choice))
0.5 cup (12g) Sweeteners, Sugar Substitute, Granulated, Brown

Daily Limits
net carbs
10g of 15g (67%)
keyboard_arrow_down
1/3 cup Coconut oil ((measured solid, then melted))
0.33 cup (73g) Oil, Coconut

Daily Goals
total fat
72g of 100g (72%)
keyboard_arrow_down
1 tsp Vanilla extract
1 tsp (4.2g) Vanilla Extract

Daily Limits
net carbs
0.53g of 15g (4%)
Daily Goals
total fat
0.003g of 100g (0%)
keyboard_arrow_down
1 cup Sugar-free Nutella spread ((or any chocolate hazelnut spread))
1 cup (240g) Syrups, Sugar Free

Daily Limits
net carbs
27g of 15g (181%)