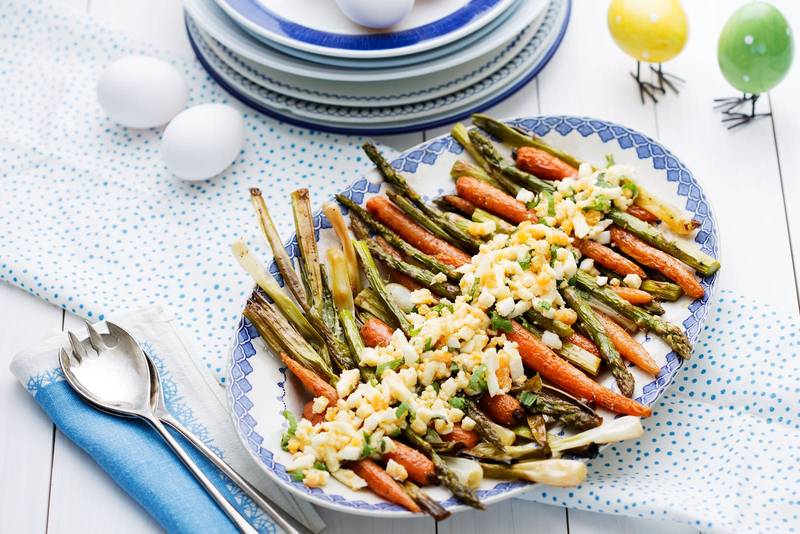 Roasted spring vegetables with eggs and browned butter (Keto Recipe Analysis)
Let these vibrant roasted spring veggies bring life to any plate. They're perfect with beef, pork, poultry or fish. We're feeling all the low-carb feels for them… year 'round! Seconds? Yes, please!
Full recipe at www.dietdoctor.com
Compliance
Based on the Keto way of eating preset. View more Keto recipes.
Daily Limits
net carbs
45g of 15g (297%)
Daily Goals
total fat
134g of 100g (134%)
Ingredients
keyboard_arrow_down
12 oz. carrots
12 oz (340g) Carrots, Raw

Daily Limits
net carbs
23g of 15g (154%)
Daily Goals
total fat
0.82g of 100g (1%)
keyboard_arrow_down
1 lb green asparagus
1 lb (454g) Asparagus, Raw

Daily Limits
net carbs
8.1g of 15g (54%)
Daily Goals
total fat
0.54g of 100g (1%)
keyboard_arrow_down
1/2 lb scallions
0.5 lb (227g) Onions, Spring Or Scallions (includes Tops And Bulb), Raw

Daily Limits
net carbs
11g of 15g (72%)
Daily Goals
total fat
0.43g of 100g (0%)
keyboard_arrow_down
1/4 cup olive oil
0.25 cup (54g) Oil, Olive, Salad Or Cooking

Daily Goals
total fat
54g of 100g (54%)
keyboard_arrow_down
2 eggs
2 medium (88g) Egg, Whole, Raw, Fresh

Daily Limits
net carbs
0.63g of 15g (4%)
Daily Goals
total fat
8.4g of 100g (8%)
keyboard_arrow_down
1/4 cup chopped fresh sage
0.25 cup (8.4g) Spices, Sage, Ground

Daily Limits
net carbs
1.7g of 15g (11%)
Daily Goals
total fat
1.1g of 100g (1%)
keyboard_arrow_down
1/4 tsp salt
0.25 tsp (1.5g) Salt, Table

keyboard_arrow_down
1/4 tsp pepper
0.25 tsp (0.57g) Spices, Pepper, Black

Daily Limits
net carbs
0.22g of 15g (1%)
Daily Goals
total fat
0.02g of 100g (0%)
keyboard_arrow_down
3 oz. butter
3 oz (85g) Butter, Salted

Daily Limits
net carbs
0.05g of 15g (0%)
Daily Goals
total fat
69g of 100g (69%)