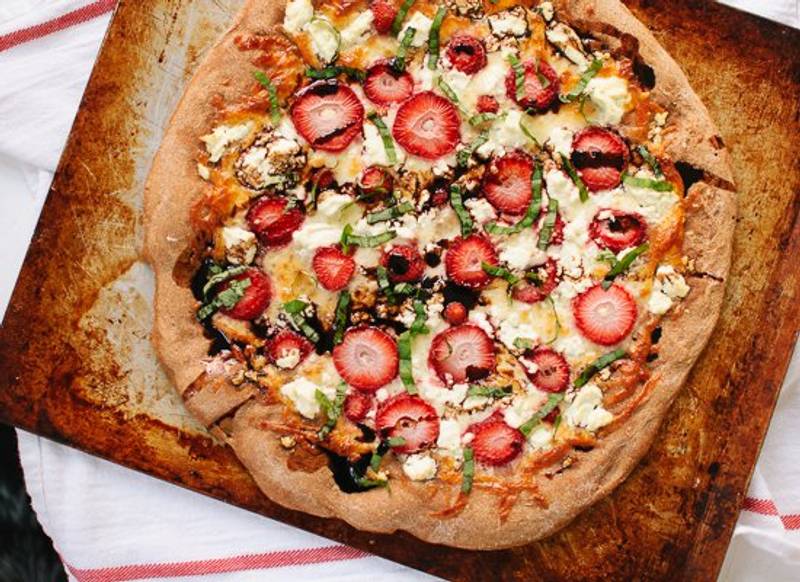 Strawberry, Basil and Balsamic Pizza (Nightshade-Free Recipe Analysis)
Strawberries roasted on top a mozzarella and goat cheese pizza, topped with fresh basil and a drizzle of balsamic reduction. This pizza is outrageously good. Trust me.
Full recipe at cookieandkate.com
Ingredients
keyboard_arrow_down
16 ounces prepared whole wheat pizza dough
16 ounces (454g) Wheat Pizza Dough

Ingredients
WATER, HIGH GLUTEN FLOUR, WHOLE WHEAT FLOUR, SALT, YEAST.
May not be a complete representation of the selected category.
keyboard_arrow_down
1 1/2 cups (6 ounces) shredded mozzarella
6 ounces (170g) Cheese, Mozzarella, Low Moisture, Part-skim, Shredded

keyboard_arrow_down
5 ounces goat cheese
5 ounces (142g) Cheese, Goat, Hard Type

keyboard_arrow_down
1 1/2 cups (about 1/2 pound) chopped strawberries, leafy ends removed and sliced into 1/4-inch thick rounds
0.5 pound (227g) Cowpeas, Leafy Tips, Raw

keyboard_arrow_down
1 tablespoon fresh basil, chiffonade into short little strips
1 tbsp (2.6g) Basil, Fresh

keyboard_arrow_down
1/4 tsp freshly ground black pepper
0.25 tsp (0.57g) Spices, Pepper, Black

keyboard_arrow_down
1/2 cup balsamic vinegar
0.5 cup (128g) Vinegar, Balsamic

keyboard_arrow_down
2 tablespoons honey
2 tbsp (42g) Honey