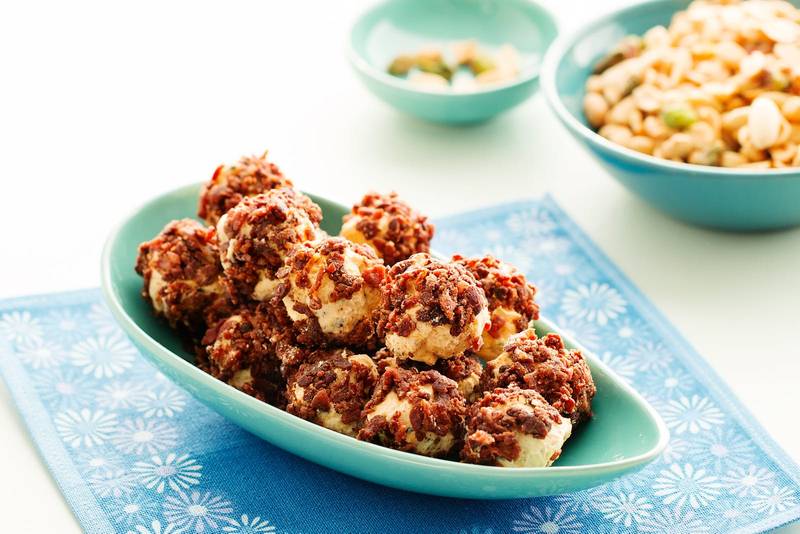 Keto cheddar cheese and bacon balls (Keto Recipe Analysis)
These cheese and bacon balls aren't just fantastic, they're ketotastic! They're loaded with smoky bacon and sharp cheddar cheese. Can you imagine the look on your guests faces when you put these on the holiday table? Oh, yes. You want these.
Full recipe at www.dietdoctor.com
Compliance
Based on the Keto way of eating preset. View more Keto recipes.
Daily Limits
net carbs
12g of 15g (78%)
Daily Goals
total fat
176g of 100g (176%)
Ingredients
keyboard_arrow_down
5 1/3 oz. bacon
5.3 oz (151g) Pork, Cured, Bacon, Unprepared

Daily Goals
total fat
56g of 100g (56%)
keyboard_arrow_down
1 tbsp butter
1 tbsp (14g) Butter, Salted

Daily Limits
net carbs
0.009g of 15g (0%)
Daily Goals
total fat
12g of 100g (12%)
keyboard_arrow_down
5 1/3 oz. cream cheese
5.3 oz (151g) Cheese, Cream

Daily Limits
net carbs
8.3g of 15g (56%)
Daily Goals
total fat
52g of 100g (52%)
keyboard_arrow_down
5 1/3 oz. cheddar cheese
5.3 oz (151g) Cheese, Low Fat, Cheddar Or Colby

Daily Limits
net carbs
2.9g of 15g (19%)
Daily Goals
total fat
11g of 100g (11%)
keyboard_arrow_down
2 oz. butter, at room temperature
2 oz (57g) Butter, Salted

Daily Limits
net carbs
0.03g of 15g (0%)
Daily Goals
total fat
46g of 100g (46%)
keyboard_arrow_down
1/2 tsp pepper (optional)
0.5 tsp (1.1g) Spices, Pepper, Black

Daily Limits
net carbs
0.44g of 15g (3%)
Daily Goals
total fat
0.04g of 100g (0%)
keyboard_arrow_down
1/2 tsp chili flakes (optional)
0.5 tsp (1.2g) Red Chili Flakes