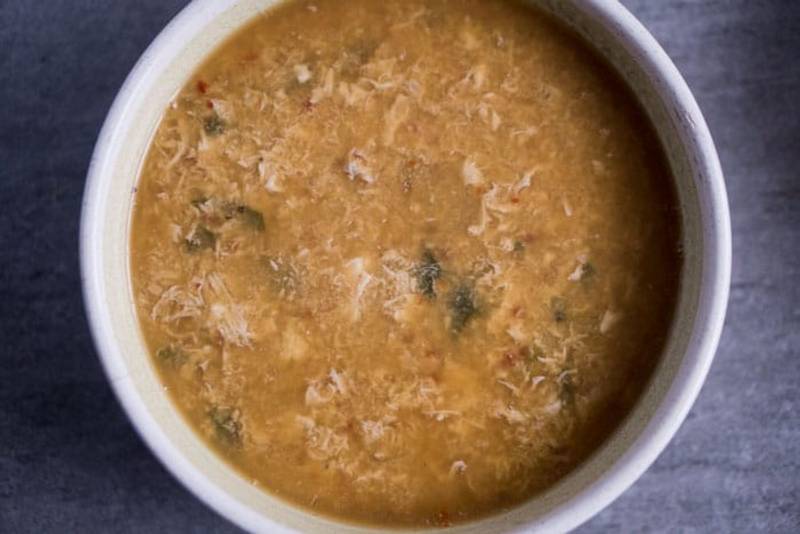 Low Carb Keto Egg Drop Soup (Gluten-Free Recipe Analysis)
A fantastic low carb egg drop soup using only keto friendly ingredients!
Full recipe at ketogasm.com
Ingredients
keyboard_arrow_down
6 cups chicken broth
6 cup (1494g) Soup, Chicken Broth, Ready-to-serve

keyboard_arrow_down
2 cloves garlic (minced)
2 clove (6g) Garlic, Raw

keyboard_arrow_down
2 stalks green onion (sliced)
2 medium (4-1/8" long) (30g) Onions, Spring Or Scallions (includes Tops And Bulb), Raw

keyboard_arrow_down
1 tsp ground ginger (or fresh)
1 tsp (1.8g) Spices, Ginger, Ground

keyboard_arrow_down
1 tbsp coconut aminos (or soy sauce/liquid aminos)
1 tbsp (15ml) Coconut Aminos Soy-free Seasoning Sauce

Ingredients
ORGANIC COCONUT TREE SAP AGED AND BLENDED WITH SUN-DRIED, MINERAL-RICH SEA SALT.
May not be a complete representation of the selected category.
keyboard_arrow_down
1 tsp red chili flakes
1 tsp (3.1g) Peppers, Hot Chili, Red, Raw

keyboard_arrow_down
1/2 tsp black pepper
0.5 tsp (1.1g) Spices, Pepper, Black

keyboard_arrow_down
4 eggs
4 medium (176g) Egg, Whole, Raw, Fresh

keyboard_arrow_down
1/4 tsp salt
0.25 tsp (1.5g) Salt, Table

keyboard_arrow_down
1/4 tsp pepper (to taste)
0.25 tsp (0.57g) Spices, Pepper, Black