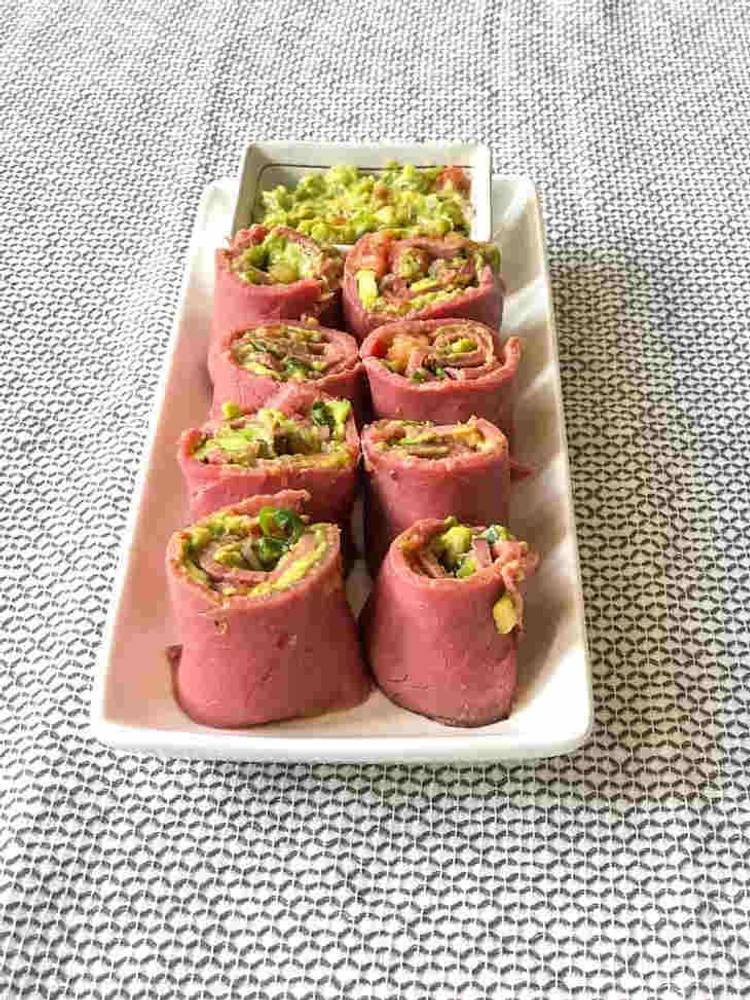 Keto Roast Beef Salsa Rolls (Keto Recipe Analysis)
These rolls make an amazingly easy and delicious Keto snack.
Full recipe at ketosummit.com
Compliance
Based on the Keto way of eating preset. View more Keto recipes.
Daily Limits
net carbs
23g of 15g (152%)
Daily Goals
total fat
79g of 100g (79%)
Ingredients
keyboard_arrow_down
8 slices of deli roast beef (or use deli ham or turkey or smoked salmon slices)
8 SLICE (224g) Turkey Ham Deli Sliced

Daily Goals
total fat
32g of 100g (32%)
Ingredients
TURKEY THIGH MEAT, WATER, DEXTROSE, CONTAINS 2% OR LESS OF THE FOLLOWING: SALT, POTASSIUM LACTATE, SODIUM PHOSPHATE, SODIUM DIACETATE, SODIUM ERYTHORBATE, SODIUM NITRITE, FLAVORING.
May not be a complete representation of the selected category.
keyboard_arrow_down
1 avocado (approx. 1/2 lb or 225 g), stone removed and flesh mashed
0.5 lb (227g) Avocados, Raw, All Commercial Varieties

Daily Limits
net carbs
4.2g of 15g (28%)
Daily Goals
total fat
33g of 100g (33%)
keyboard_arrow_down
1 small tomato, finely diced
1 small whole (2-2/5" dia) (91g) Tomatoes, Red, Ripe, Raw, Year Round Average

Daily Limits
net carbs
2.4g of 15g (16%)
Daily Goals
total fat
0.18g of 100g (0%)
keyboard_arrow_down
1/2 small red onion, finely diced
0.5 small (35g) Onions, Raw

Daily Limits
net carbs
2.7g of 15g (18%)
Daily Goals
total fat
0.03g of 100g (0%)
keyboard_arrow_down
1 chili pepper, deseeded and finely chopped (optional)
1 pepper (45g) Peppers, Hot Chili, Green, Raw

Daily Limits
net carbs
3.6g of 15g (24%)
Daily Goals
total fat
0.09g of 100g (0%)
keyboard_arrow_down
Zest and juice of 1/2 lime
0.5 lime yields (22g) Lime Juice, Raw

Daily Limits
net carbs
1.8g of 15g (12%)
Daily Goals
total fat
0.02g of 100g (0%)
keyboard_arrow_down
1 Tablespoon (15 ml) olive oil
1 tbsp (14g) Oil, Olive, Salad Or Cooking

Daily Goals
total fat
14g of 100g (14%)
keyboard_arrow_down
1/4 tsp Salt
0.25 tsp (1.5g) Salt, Table

keyboard_arrow_down
1/4 tsp pepper, to taste
0.25 tsp (0.57g) Spices, Pepper, Black

Daily Limits
net carbs
0.22g of 15g (1%)
Daily Goals
total fat
0.02g of 100g (0%)