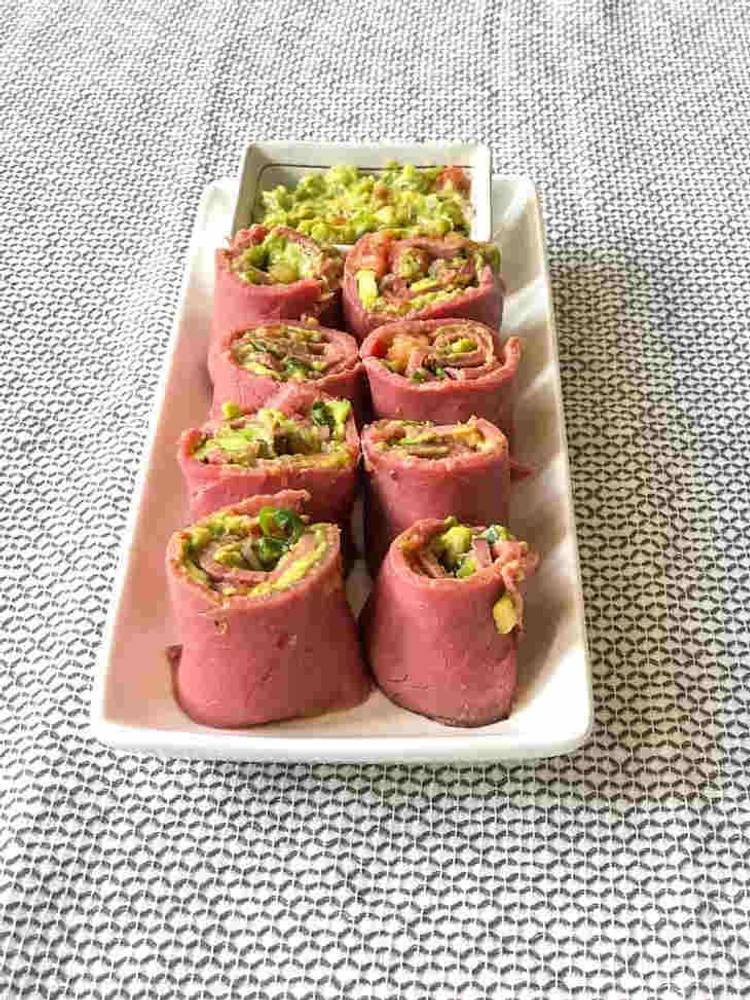 Keto Roast Beef Salsa Rolls (Swank Diet Inspired Recipe Analysis)
These rolls make an amazingly easy and delicious Keto snack.
Full recipe at ketosummit.com
Ingredients
keyboard_arrow_down
8 slices of deli roast beef (or use deli ham or turkey or smoked salmon slices)
8 SLICE (224g) Turkey Ham Deli Sliced

Daily Limits
saturated fat
0g of 3g (0%)
Ingredients
TURKEY THIGH MEAT, WATER, DEXTROSE, CONTAINS 2% OR LESS OF THE FOLLOWING: SALT, POTASSIUM LACTATE, SODIUM PHOSPHATE, SODIUM DIACETATE, SODIUM ERYTHORBATE, SODIUM NITRITE, FLAVORING.
May not be a complete representation of the selected category.
keyboard_arrow_down
1 avocado (approx. 1/2 lb or 225 g), stone removed and flesh mashed
0.5 lb (227g) Avocados, Raw, All Commercial Varieties

Daily Limits
saturated fat
4.8g of 3g (161%)
keyboard_arrow_down
1 small tomato, finely diced
1 small whole (2-2/5" dia) (91g) Tomatoes, Red, Ripe, Raw, Year Round Average

Daily Limits
saturated fat
0.03g of 3g (1%)
keyboard_arrow_down
1/2 small red onion, finely diced
0.5 small (35g) Onions, Raw

Daily Limits
saturated fat
0.01g of 3g (0%)
keyboard_arrow_down
1 chili pepper, deseeded and finely chopped (optional)
1 pepper (45g) Peppers, Hot Chili, Green, Raw

Daily Limits
saturated fat
0.009g of 3g (0%)
keyboard_arrow_down
Zest and juice of 1/2 lime
0.5 lime yields (22g) Lime Juice, Raw

Daily Limits
saturated fat
0.002g of 3g (0%)
keyboard_arrow_down
1 Tablespoon (15 ml) olive oil
1 tbsp (14g) Oil, Olive, Salad Or Cooking

Daily Limits
saturated fat
1.9g of 3g (62%)
keyboard_arrow_down
1/4 tsp Salt
0.25 tsp (1.5g) Salt, Table

Daily Limits
saturated fat
0g of 3g (0%)
keyboard_arrow_down
1/4 tsp pepper, to taste
0.25 tsp (0.57g) Spices, Pepper, Black

Daily Limits
saturated fat
0.008g of 3g (0%)