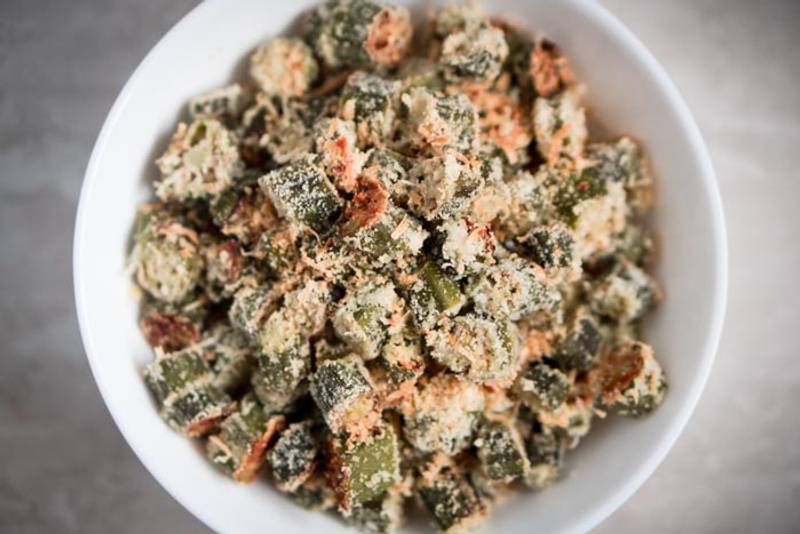 Low Carb Oven Fried Okra (No Starch Recipe Analysis)
Fried okra with a healthy twist: baked, low carb, and gluten-free!
Full recipe at ketogasm.com
Ingredients
keyboard_arrow_down
1 pound okra (fresh)
1 pound (454g) Okra, Raw

keyboard_arrow_down
1 tsp sea salt
1 tsp (6g) Salt, Table

keyboard_arrow_down
2 tbsp almond flour
2 tbsp (1.9g) Almond Flour

Daily Limits
starchestimated
0.12g of 1g (12%)
Ingredients
Blanched Almond Flour.
May not be a complete representation of the selected category.
keyboard_arrow_down
1/4 cup Parmesan cheese (finely grated)
0.25 cup (20g) Cheese, Parmesan, Shredded

Daily Limits
starchestimated
0.5g of 1g (50%)
keyboard_arrow_down
1/2 tsp pepper
0.5 tsp (1.1g) Spices, Pepper, Black

Daily Limits
starchestimated
0.44g of 1g (44%)
keyboard_arrow_down
1/4 tsp sea salt (to taste)
0.25 tsp (1.5g) Salt, Table