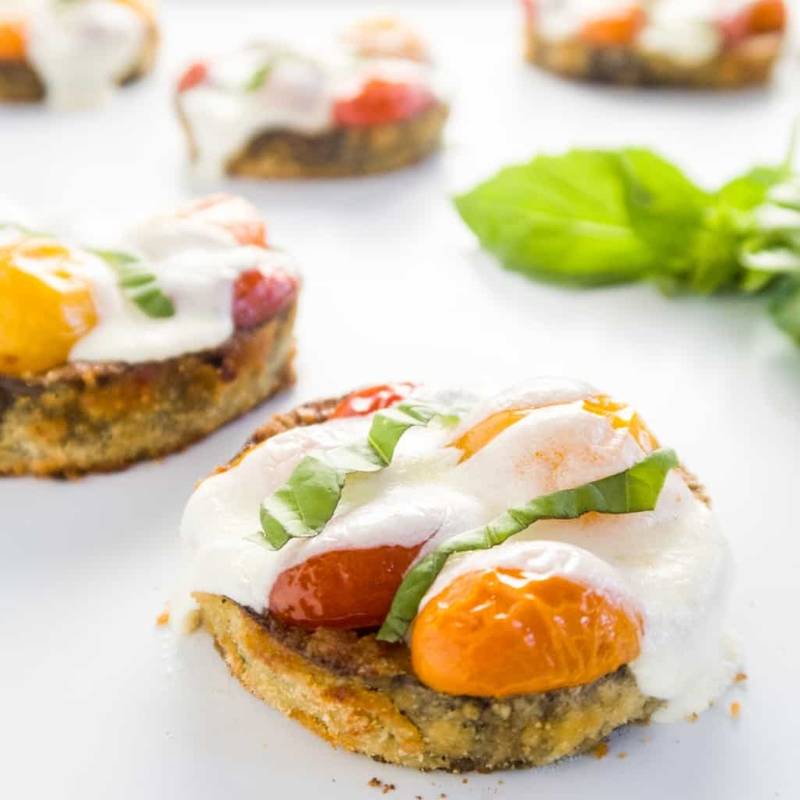 Eggplant Stacks with Tomatoes & Mozzarella (Low Carb, Gluten-Free) (London As Diet Inspired Recipe Analysis)
These crispy and juicy tomato mozzarella eggplant stacks are low carb and gluten-free. Delicious and colorful, yet so easy to make!
Full recipe at www.wholesomeyum.com
Ingredients
keyboard_arrow_down
1 large Eggplant ((cut into 1/2 thick slices))
1 eggplant, peeled (yield from 1-1/4 lb) (458g) Eggplant, Raw

Daily Limits
starchestimated
0g of 5g (0%)
keyboard_arrow_down
3 tbsp Coconut flour
3 tbsp (24g) Coconut Flour

Daily Limits
starchestimated
1.5g of 5g (30%)
Ingredients
ORGANIC COCONUT (CONTAINS COCONUT).
May not be a complete representation of the selected category.
keyboard_arrow_down
6 tbsp Grated parmesan cheese
6 tbsp (30g) Cheese, Parmesan, Shredded

Daily Limits
starchestimated
0.75g of 5g (15%)
keyboard_arrow_down
1/4 tsp Garlic powder
0.25 tsp (0.78g) Spices, Garlic Powder

Daily Limits
starchestimated
0.48g of 5g (10%)
Daily Goals
protein
0.13g of 100g (0%)
keyboard_arrow_down
2 large Egg
2 large (100g) Egg, Whole, Raw, Fresh

Daily Limits
starchestimated
0.35g of 5g (7%)
keyboard_arrow_down
1 lb Grape tomatoes (*)
1 lb (454g) Tomatoes, Red, Ripe, Raw, Year Round Average

keyboard_arrow_down
1 tbsp Balsamic vinegar
1 tbsp (16g) Vinegar, Balsamic

Daily Limits
starchestimated
0.33g+ of 5g (7%+)
Daily Goals
protein
0.08g of 100g (0%)
keyboard_arrow_down
1 tbsp Olive oil
1 tbsp (14g) Oil, Olive, Salad Or Cooking

keyboard_arrow_down
6 oz Fresh mozzarella cheese
6 oz (170g) Cheese, Mozzarella, Whole Milk

Daily Limits
starchestimated
4.1g of 5g (82%)
keyboard_arrow_down
2 tbsp Fresh basil ((chopped or cut into ribbons))
2 tbsp (5.3g) Basil, Fresh

Daily Limits
starchestimated
0.04g of 5g (1%)
Daily Goals
protein
0.17g of 100g (0%)