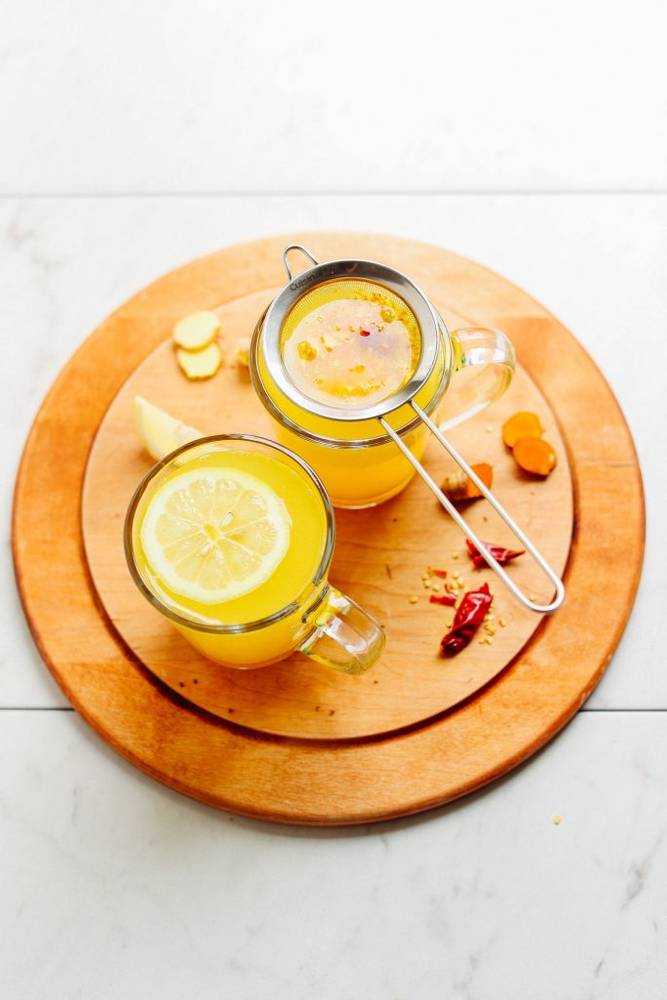 Healing 3-Ingredient Turmeric Tonic (Keto Recipe Analysis)
A 5-minute, 3-ingredient, 1-pot healing tea tonic with ginger, lemon, turmeric, and cayenne. The perfect way to detox the body, recover from a cold, or relax before bed.
Full recipe at minimalistbaker.com
Compliance
Based on the Keto way of eating preset. View more Keto recipes.
Daily Limits
net carbs
13g of 15g (84%)
Daily Goals
total fat
0.54g of 100g (1%)
Ingredients
keyboard_arrow_down
1 Tbsp fresh grated turmeric ((packed // or 1/2 tsp ground, though fresh is best))
1 tbsp (9g) Spices, Turmeric, Ground

Daily Goals
total fat
0.29g of 100g (0%)
keyboard_arrow_down
1 Tbsp fresh grated ginger ((packed // or 1/2 tsp ground, though fresh is best))
1 tbsp (6g) Ginger Root, Raw

Daily Limits
net carbs
0.95g of 15g (6%)
Daily Goals
total fat
0.04g of 100g (0%)
keyboard_arrow_down
1 whole lemon ((juiced // ~3 Tbsp or 45 ml juice as originalis written // plus leftover rind))
3 tbsp (46g) Lemon Juice, Raw

Daily Goals
total fat
0.11g of 100g (0%)
keyboard_arrow_down
1-2 tsp maple syrup ((optional // can sub stevia or raw honey if not vegan))
1 tsp (6.7g) Syrups, Maple

Daily Limits
net carbs
4.5g of 15g (30%)
Daily Goals
total fat
0.004g of 100g (0%)
keyboard_arrow_down
1 pinch cayenne pepper ((optional // or cracked black pepper which many readers have commented helps with the bioavailability of the turmeric!))
0.5 g (0.5g) Spices, Pepper, Red Or Cayenne

Daily Limits
net carbs
0.15g of 15g (1%)
Daily Goals
total fat
0.09g of 100g (0%)
keyboard_arrow_down
3 cups filtered water
3 cup (710g) Beverages, Water, Tap, Drinking