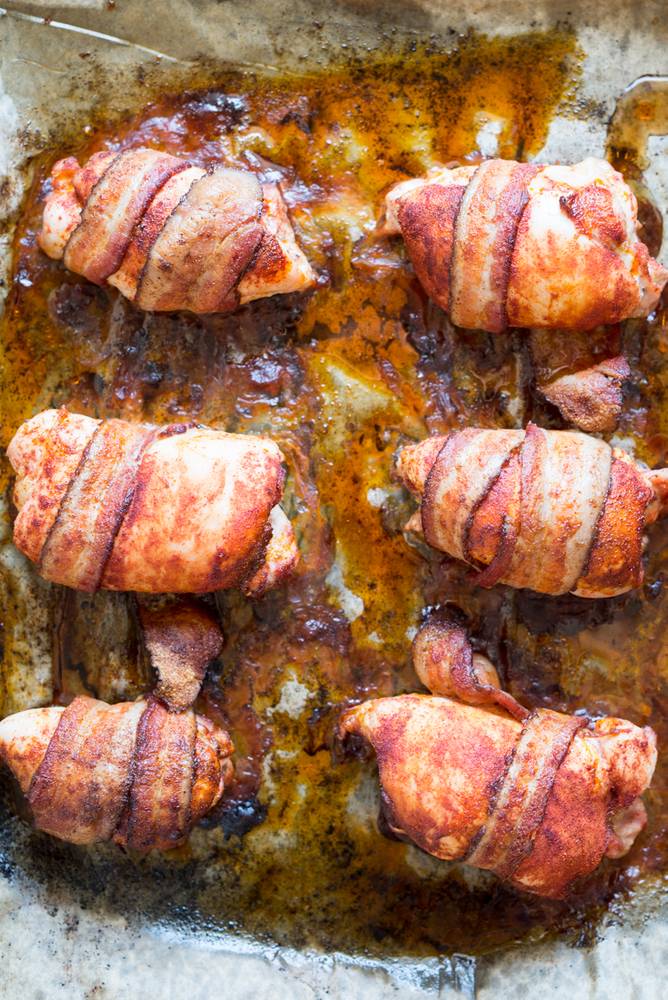 Smoky Bacon Wrapped Chicken Thighs (Paleo, Gluten-Free) (London As Diet Inspired Recipe Analysis)
Bacon Wrapped Chicken Thighs are a delicious way to elevate chicken to a new level. Season with smoked paprika, wrap with bacon, and bake. These are paleo, gluten-free, and Whole30-friendly.
Full recipe at www.stephgaudreau.com
Ingredients
keyboard_arrow_down
2 lb chicken thighs (boneless, skinless)
2 lb (907g) Chicken, Broilers Or Fryers, Thigh, Meat And Skin, Raw

Daily Limits
starchestimated
2.3g of 5g (45%)
Daily Goals
protein
150g of 100g (150%)
keyboard_arrow_down
8 oz bacon ((or 1 piece per thigh))
8 oz (227g) Chicken, Skin (drumsticks And Thighs), Raw

Daily Limits
starchestimated
1.8g of 5g (36%)
keyboard_arrow_down
1 tbsp smoked paprika
1 tbsp (12g) Smoked Paprika

Ingredients
Apple Wood Smoked Paprika
May not be a complete representation of the selected category.
keyboard_arrow_down
1 tsp black pepper
1 tsp (2.3g) Spices, Pepper, Black

Daily Limits
starchestimated
0.87g of 5g (17%)
Daily Goals
protein
0.24g of 100g (0%)
keyboard_arrow_down
1/2 tsp sea salt
0.5 tsp (3g) Salt, Table