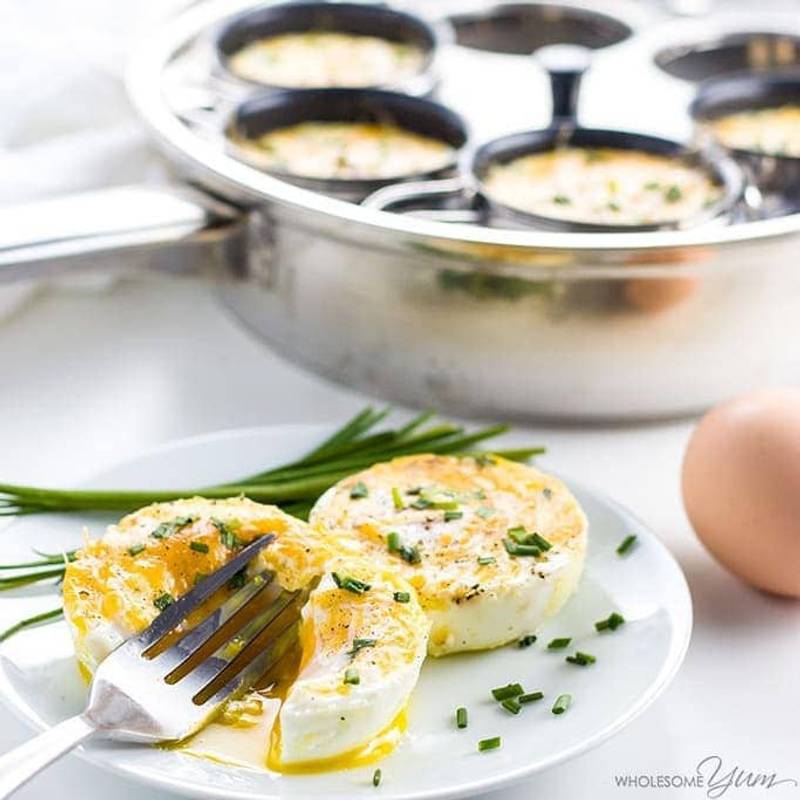 Coddled Egg- How To Make Coddled Eggs in 5 Minutes (Keto Recipe Analysis)
Learn how to make coddled eggs in just 5 minutes! This super easy coddled egg- with optional cheddar cheese and chives - is simple, fast, and absolutely delicious.
Full recipe at www.wholesomeyum.com
Compliance
Based on the Keto way of eating preset. View more Keto recipes.
Daily Limits
net carbs
3.4g of 15g (23%)
Daily Goals
total fat
32g of 100g (32%)
Ingredients
keyboard_arrow_down
6 large Egg
6 large (300g) Egg, Whole, Raw, Fresh

Daily Limits
net carbs
2.2g of 15g (14%)
Daily Goals
total fat
29g of 100g (29%)
keyboard_arrow_down
1/4 tsp Sea salt
0.25 tsp (1.5g) Salt, Table

keyboard_arrow_down
1/4 tsp Black pepper
0.25 tsp (0.57g) Spices, Pepper, Black

Daily Limits
net carbs
0.22g of 15g (1%)
Daily Goals
total fat
0.02g of 100g (0%)
keyboard_arrow_down
6 tbsp Cheddar cheese ((shredded - optional))
6 tbsp (50g) Cheese, Low Fat, Cheddar Or Colby

Daily Limits
net carbs
0.95g of 15g (6%)
Daily Goals
total fat
3.5g of 100g (3%)
keyboard_arrow_down
6 tsp Chives ((chopped - optional))
6 tsp (6g) Chives, Raw

Daily Limits
net carbs
0.11g of 15g (1%)
Daily Goals
total fat
0.04g of 100g (0%)