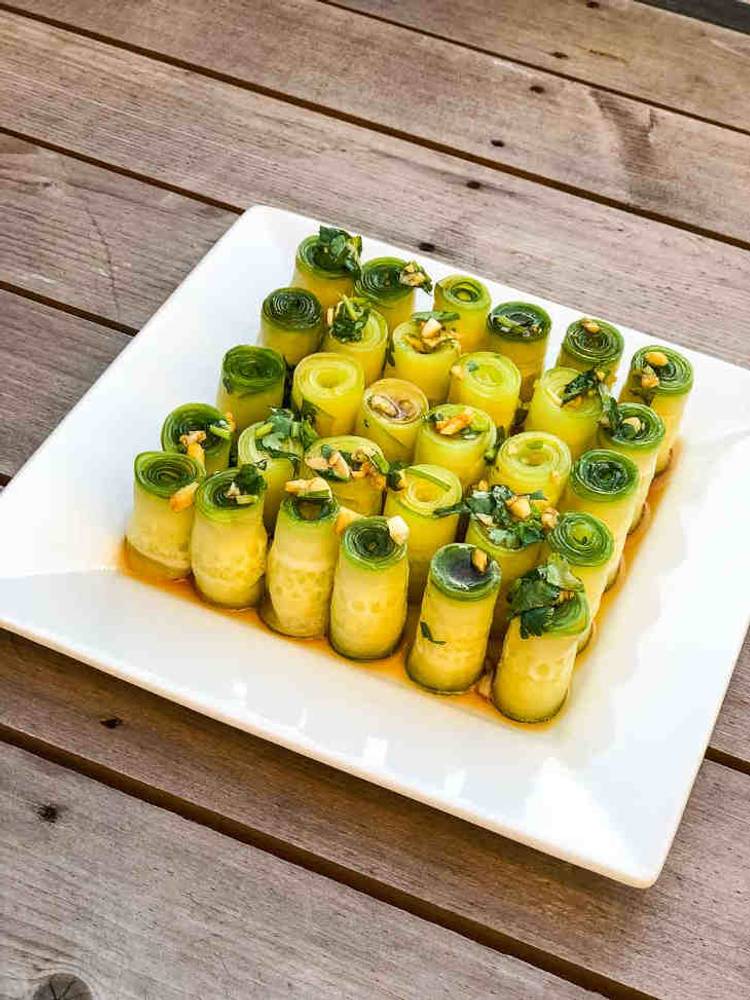 Keto Asian Rolled Cucumber Salad (Low Starch Low Sugar Vegan Recipe Analysis)
A light and fresh salad that doesn't skimp on umami.
Full recipe at ketosummit.com
Ingredients
keyboard_arrow_down
2 large cucumbers, peeled
2 large (8-1/4" long) (560g) Cucumber, Peeled, Raw

Daily Limits
total sugar
7.7g of 10g (77%)
keyboard_arrow_down
3 Tablespoons (45 ml) of gluten-free tamari sauce or coconut aminos
3 tbsp (54g) Tamari Gluten Free Soy Sauce

Daily Limits
starchestimated
3g+ of 5g (60%+)
total sugarestimated
3g+ of 10g (30%+)
Ingredients
Water, Soybeans, Salt, Alcohol (to Preserve Freshness).
May not be a complete representation of the selected category.
keyboard_arrow_down
1 teaspoon (5 ml) sesame oil (optional)
1 tsp (4.5g) Oil, Sesame, Salad Or Cooking

Daily Limits
total sugar
0g of 10g (0%)
keyboard_arrow_down
Dash of hot sauce (optional)
0.5 g (0.5g) Sauce, Hot Chile, Sriracha

Daily Limits
starchestimated
0.009g of 5g (0%)
total sugar
0.08g of 10g (1%)
keyboard_arrow_down
2 cloves garlic, minced
2 clove (6g) Garlic, Raw

Daily Limits
starchestimated
1.8g of 5g (36%)
total sugar
0.06g of 10g (1%)
keyboard_arrow_down
1 green onion, diced
1 medium (4-1/8" long) (15g) Onions, Spring Or Scallions (includes Tops And Bulb), Raw

Daily Limits
starchestimated
0.36g of 5g (7%)
total sugar
0.35g of 10g (3%)