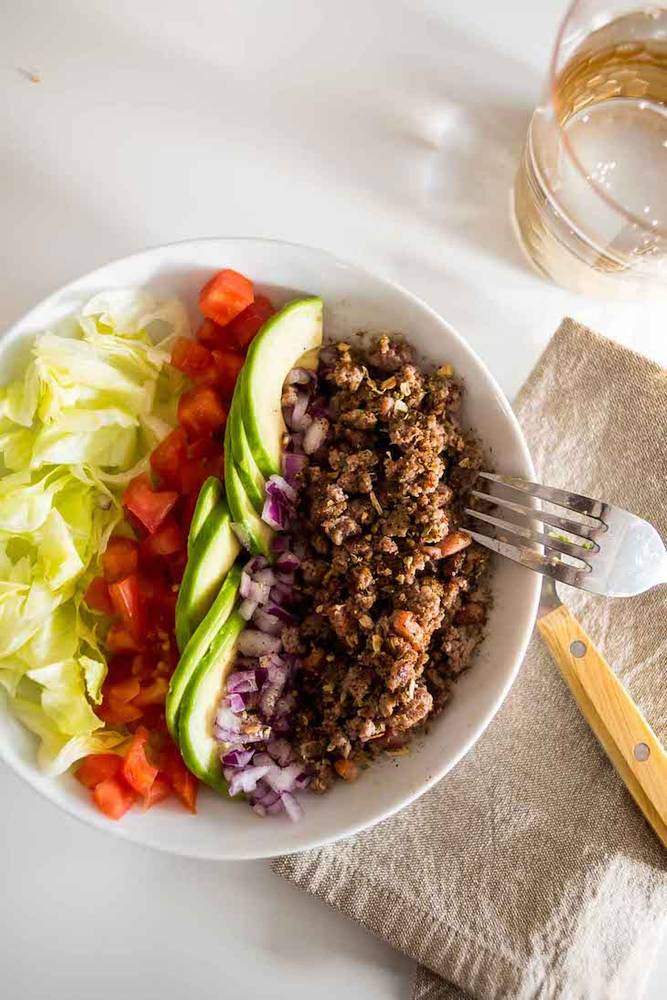 Keto Taco Salad (Keto Recipe Analysis)
This Keto taco salad is perfect for your next lunch.
Full recipe at ketosummit.com
Compliance
Based on the Keto way of eating preset. View more Keto recipes.
Daily Limits
net carbs
15g of 15g (97%)
Daily Goals
total fat
115g of 100g (115%)
Ingredients
keyboard_arrow_down
1 cup romaine lettuce or iceberg lettuce, chopped
1 cup (85g) Iceberg Lettuce

Ingredients
ICEBERG LETTUCE.
May not be a complete representation of the selected category.
keyboard_arrow_down
1 avocado, sliced
1 avocado, NS as to Florida or California (201g) Avocados, Raw, All Commercial Varieties

Daily Limits
net carbs
3.7g of 15g (25%)
Daily Goals
total fat
29g of 100g (29%)
keyboard_arrow_down
1/2 red onion, diced
0.5 medium (2-1/2" dia) (55g) Onions, Raw

Daily Limits
net carbs
4.2g of 15g (28%)
Daily Goals
total fat
0.06g of 100g (0%)
keyboard_arrow_down
1/2 tomato, diced
0.5 medium whole (2-3/5" dia) (62g) Tomatoes, Red, Ripe, Raw, Year Round Average

Daily Limits
net carbs
1.7g of 15g (11%)
Daily Goals
total fat
0.12g of 100g (0%)
keyboard_arrow_down
1 Tablespoon (15 ml) lime juice
1 tbsp (15g) Lime Juice, Raw

Daily Limits
net carbs
1.2g of 15g (8%)
Daily Goals
total fat
0.01g of 100g (0%)
keyboard_arrow_down
1 lb (450 g) ground beef
1 lb (454g) Beef, Grass-fed, Ground, Raw

Daily Goals
total fat
58g of 100g (58%)
keyboard_arrow_down
2 teaspoons (4 g) Keto taco seasoning, or to taste
4 g (4g) Seasoning Mix, Dry, Taco, Original

Daily Limits
net carbs
1.8g of 15g (12%)
keyboard_arrow_down
2 Tablespoons (30 ml) avocado oil, to cook with
2 tbsp (28g) Oil, Avocado

Daily Goals
total fat
28g of 100g (28%)