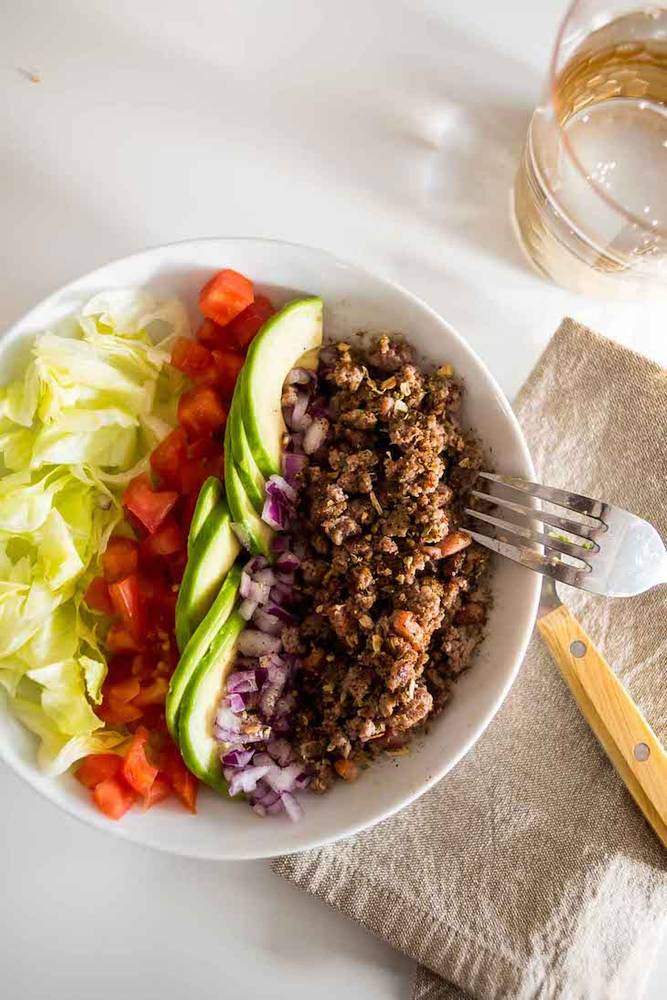 Keto Taco Salad (No Starch Recipe Analysis)
This Keto taco salad is perfect for your next lunch.
Full recipe at ketosummit.com
Ingredients
keyboard_arrow_down
1 cup romaine lettuce or iceberg lettuce, chopped
1 cup (85g) Iceberg Lettuce

Daily Limits
starchestimated
0g of 1g (0%)
Ingredients
ICEBERG LETTUCE.
May not be a complete representation of the selected category.
keyboard_arrow_down
1 avocado, sliced
1 avocado, NS as to Florida or California (201g) Avocados, Raw, All Commercial Varieties

keyboard_arrow_down
1/2 red onion, diced
0.5 medium (2-1/2" dia) (55g) Onions, Raw

keyboard_arrow_down
1/2 tomato, diced
0.5 medium whole (2-3/5" dia) (62g) Tomatoes, Red, Ripe, Raw, Year Round Average

keyboard_arrow_down
1 Tablespoon (15 ml) lime juice
1 tbsp (15g) Lime Juice, Raw

keyboard_arrow_down
1 lb (450 g) ground beef
1 lb (454g) Beef, Grass-fed, Ground, Raw

keyboard_arrow_down
2 teaspoons (4 g) Keto taco seasoning, or to taste
4 g (4g) Seasoning Mix, Dry, Taco, Original

Daily Limits
starchestimated
1.4g of 1g (135%)
keyboard_arrow_down
2 Tablespoons (30 ml) avocado oil, to cook with
2 tbsp (28g) Oil, Avocado