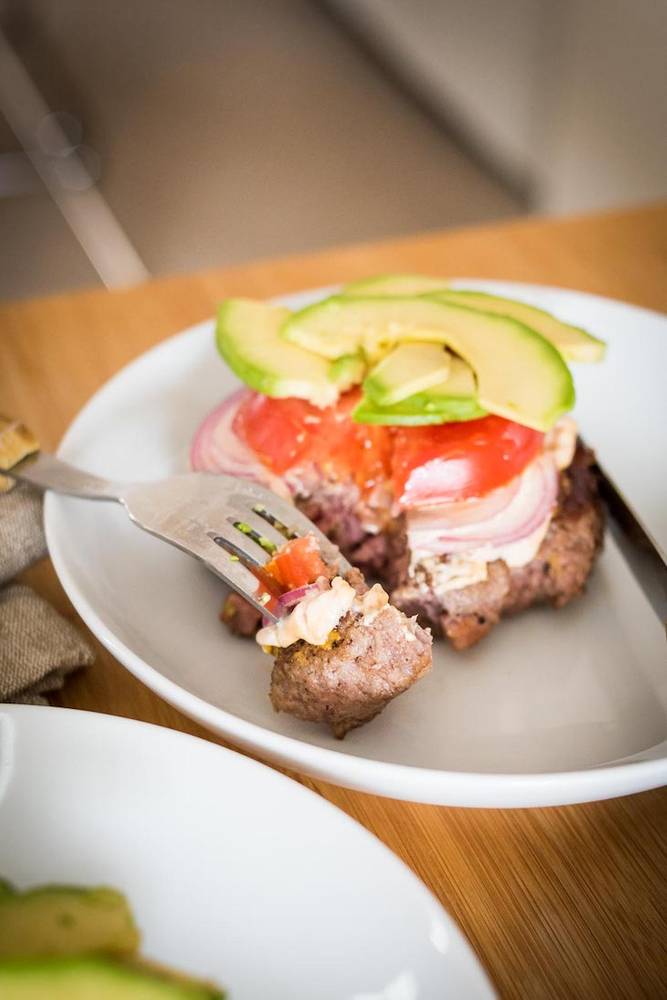 Mustard-Seared Bacon Burgers (Gluten-Free Recipe Analysis)
This delicious gourmet burger is sure to be a hit.
Full recipe at ketosummit.com
Ingredients
keyboard_arrow_down
4 oz (110 g) of bacon, diced
4 oz (113g) Pork, Cured, Bacon, Unprepared

keyboard_arrow_down
1.5 lb (675 g) ground beef
1.5 lb (680g) Beef, Grass-fed, Ground, Raw

keyboard_arrow_down
1/4 tsp Salt
0.25 tsp (1.5g) Salt, Table

keyboard_arrow_down
1/4 tsp pepper
0.25 tsp (0.57g) Spices, Pepper, Black

keyboard_arrow_down
6 Tablespoons (90 ml) yellow mustard
6 tbsp (90g) Mustard, Prepared, Yellow

keyboard_arrow_down
1/2 red onion, diced
0.5 medium (2-1/2" dia) (55g) Onions, Raw

keyboard_arrow_down
1 tomato, diced
1 medium whole (2-3/5" dia) (123g) Tomatoes, Red, Ripe, Raw, Year Round Average

keyboard_arrow_down
1 avocado, sliced
1 avocado, NS as to Florida or California (201g) Avocados, Raw, All Commercial Varieties

keyboard_arrow_down
1/4 cup (60 ml) mayo
0.25 cup (56g) Mayo

Ingredients
NON-GMO EXPELLER PRESSED CANOLA OIL, FILTERED WATER, LEMON JUICE, GARLIC, WHITE VINEGAR, 2% OR LESS OF THE FOLLOWING: ORGANIC SUGAR, SALT, PEA PROTEIN, SPICES, MODIFIED FOOD STARCH, BETA-CAROTENE, CALCIUM DISODIUM EDTA (TO PRESERVE FRESHNESS).
May not be a complete representation of the selected category.
keyboard_arrow_down
1 teaspoon (5 ml) tomato paste
1 tsp (3.1g) Tomatoes, Red, Ripe, Raw, Year Round Average

keyboard_arrow_down
2 teaspoons (10 ml) yellow mustard
2 tsp (10g) Mustard, Prepared, Yellow