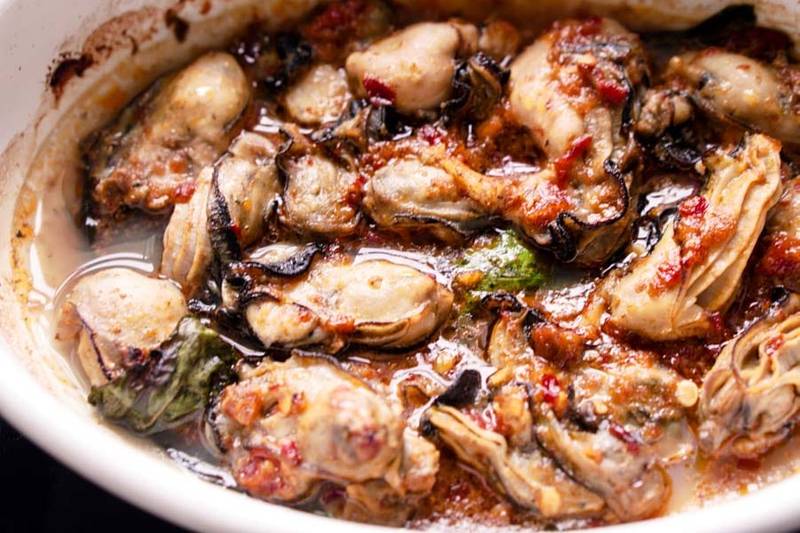 Low Carb OysterBroiled with Spicy Sauce [Keto & Gluten Free] (Low Starch Gluten Free Recipe Analysis)
Broiled oysters with a fiery kick!
Full recipe at ketogasm.com
Ingredients
keyboard_arrow_down
12 oysters (shucked)
12 medium (168g) Mollusks, Oyster, Eastern, Wild, Raw

keyboard_arrow_down
1 tablespoon Huy Fong's garlic chili paste
1 tbsp (15g) Huy Fong Foods, Chili Garlic Sauce

Ingredients
Chili, Salt, Garlic, Distilled Vinegar, Potassium Sorbate And Sodium Bisulfite As Preservatives And Xanthan Gum.
May not be a complete representation of the selected category.
keyboard_arrow_down
1 tablespoon olive oil
1 tbsp (14g) Oil, Olive, Salad Or Cooking

keyboard_arrow_down
1/8 teaspoon salt
0.13 tsp (0.75g) Salt, Table

keyboard_arrow_down
7-8 basil leaves (fresh)
7 leaves (3.5g) Basil, Fresh

Daily Limits
starchestimated
0.03g of 5g (1%)