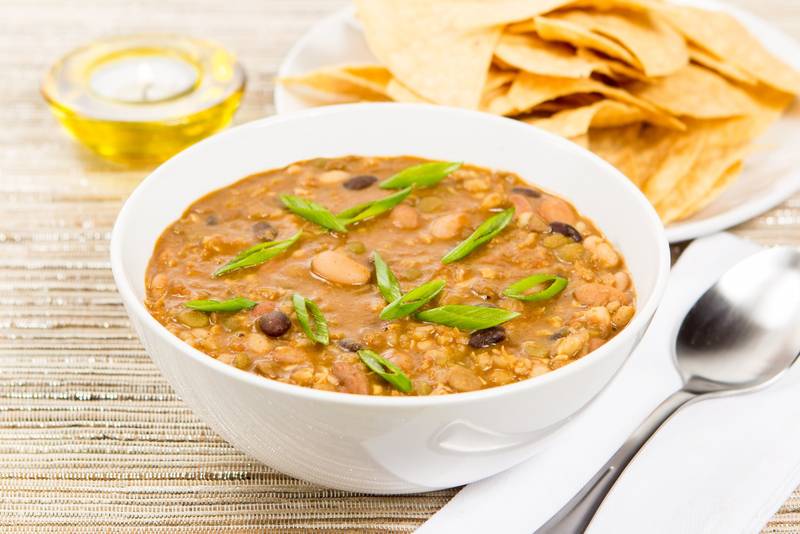 Seven Bean Soup (Overcoming MS Diet Inspired Recipe Analysis)
You'll love this savory and deliciously filling bean soup. After you soak the beans, it's just five minutes of kid-stuff prep work!
Full recipe at www.forksoverknives.com
Ingredients
keyboard_arrow_down
1½ cups multi-bean soup mix, soaked for 4-8 hours, rinsed and drained
1.5 cup (228g) Bean Soup Mix

Daily Limits
saturated fat
0g of 3g (0%)
Ingredients
CONTAINS 16 OF THE FOLLOWING VARIETIES: LARGE LIMA BEANS, SMALL WHITE BEANS, RED KIDNEY BEANS, BABY LIMA BEANS, GREAT NORTHERN BEANS, SPECKLED LIMA BEANS, BLACK BEANS, GREEN BABY LIMA BEANS, PINTO BEANS, CRANBERRY BEANS, PINK BEANS, WHOLE GREEN PEAS, YELLOW SPLIT PEAS, LENTILS, GREEN SPLIT PEAS, SMALL RED BEANS, NAVY BEANS, BLACKEYE PEAS.
May not be a complete representation of the selected category.
keyboard_arrow_down
1 tablespoon ground coriander
1 tbsp (6g) Ground Coriander

keyboard_arrow_down
1/4 tsp Cayenne pepper (optional)
0.25 tsp (0.45g) Spices, Pepper, Red Or Cayenne

Daily Limits
saturated fat
0.01g of 3g (0%)
keyboard_arrow_down
¾ tablespoon paprika
0.75 tbsp (5.2g) Spices, Paprika

Daily Limits
saturated fat
0.11g of 3g (4%)
keyboard_arrow_down
½ tablespoon ground cumin
0.5 tbsp (6g) Ground Cumin

keyboard_arrow_down
1/4 tsp Sea salt
0.25 tsp (1.5g) Salt, Table

Daily Limits
saturated fat
0g of 3g (0%)
keyboard_arrow_down
1 scallion, chopped
1 medium (4-1/8" long) (15g) Onions, Spring Or Scallions (includes Tops And Bulb), Raw

Daily Limits
saturated fat
0.005g of 3g (0%)
keyboard_arrow_down
1 tomato, diced
1 medium whole (2-3/5" dia) (123g) Tomatoes, Red, Ripe, Raw, Year Round Average

Daily Limits
saturated fat
0.03g of 3g (1%)
keyboard_arrow_down
5 garlic cloves
5 clove (15g) Garlic, Raw

Daily Limits
saturated fat
0.01g of 3g (0%)