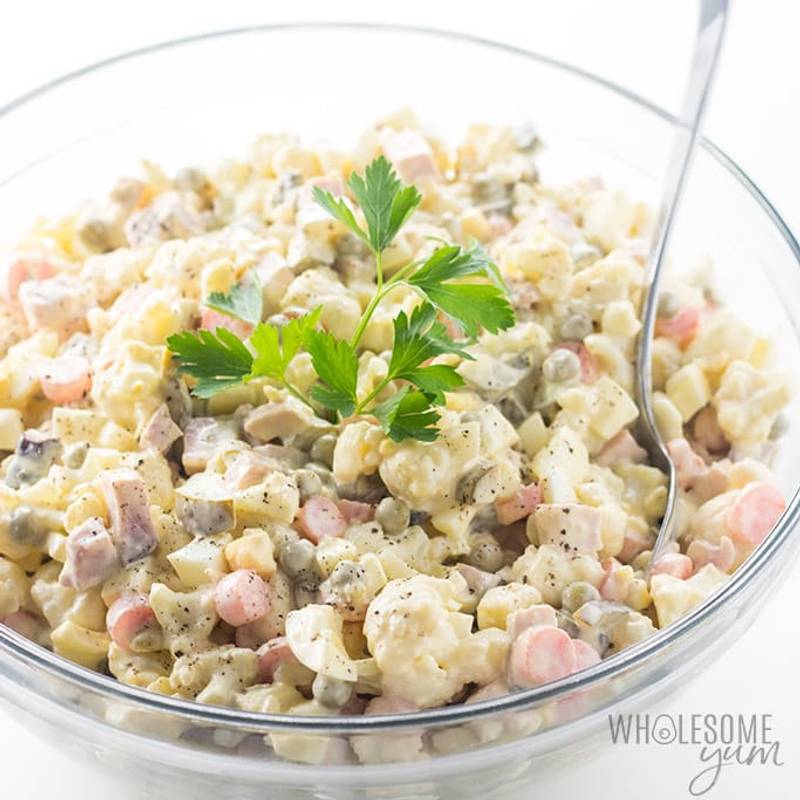 Healthy Olivie Russian Olivier Salad (Gluten-Free Recipe Analysis)
This is a healthy version of the popular Salat Olivie ( Салат Оливье )! Everyone will love this Russian Olivie Salad- lower in carbs but just as delicious! It's easy to make and stores well.
Full recipe at www.wholesomeyum.com
Ingredients
keyboard_arrow_down
1 large head Cauliflower ((cut into small florets, ~6 cups florets))
6 cup (642g) Cauliflower, Raw

keyboard_arrow_down
1 cup Carrots ((diced small))
1 cup (128g) Carrots, Raw

keyboard_arrow_down
1/2 24 fl oz jar Pickles ((drained, diced small))
0.5 floz (15g) Asparagus, Canned, Drained Solids

keyboard_arrow_down
10 large Egg ((hard boiled, diced))
10 large (500g) Egg, Whole, Cooked, Hard-boiled

keyboard_arrow_down
1/2 lb Ham ((diced small; try to look for uncured, no sugar, or if you can't find that, <1g sugar per serving))
0.5 lb (227g) Ham, Minced

keyboard_arrow_down
1/2 15-oz can Peas ((drained; skip for paleo or whole30))
2 oz (57g) Peas, Green, Cooked, Boiled, Drained, With Salt

keyboard_arrow_down
1 1/2 cup Mayonnaise
1.5 cup (331g) Salad Dressing, Mayonnaise, Regular

keyboard_arrow_down
1 tbsp Dijon mustard ((optional))
1 tbsp (15g) Dijon Mustard

Ingredients
WATER, MUSTARD SEEDS, VINEGAR, SALT, PRESERVATIVE (SODIUM BISULPHITE).
May not be a complete representation of the selected category.
keyboard_arrow_down
3/4 tsp Sea salt ((to taste))
0.75 tsp (4.5g) Salt, Table

keyboard_arrow_down
1/4 tsp Black pepper
0.25 tsp (0.57g) Spices, Pepper, Black