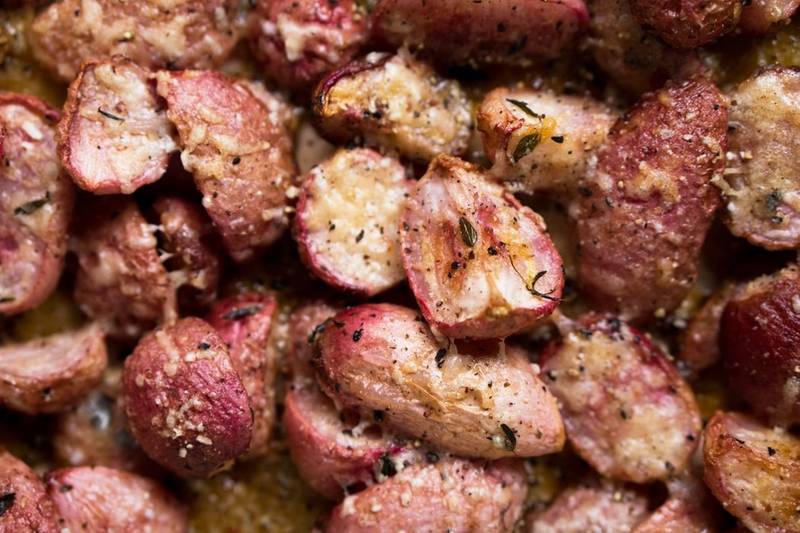 Parmesan Keto Roasted Radishes (Low Starch Gluten Free Recipe Analysis)
These keto roasted radishes do a splendid job at making up for potatoes, making them the perfect side kick to any and every meal. Oh, and just 1g net carbs!
Full recipe at www.gnom-gnom.com
Ingredients
keyboard_arrow_down
2 bunches small to medium radishes (about 20) (trimmed and halved or sliced)
14 medium (3/4" to 1" dia) (63g) Radishes, Raw

keyboard_arrow_down
2 tablespoons extra virgin olive oil
2 tbsp (27g) Oil, Olive, Salad Or Cooking

keyboard_arrow_down
2 teaspoons thyme (fresh or dried )
2 tsp (2g) Spices, Thyme, Dried

Daily Limits
starchestimated
0.5g of 5g (10%)
keyboard_arrow_down
1/4 tsp flakey sea salt (to taste)
0.25 tsp (1.5g) Sea Salt Flakes

Ingredients
SEA SALT FLAKES WITH NO ADDITIVES
May not be a complete representation of the selected category.
keyboard_arrow_down
1/4 tsp black pepper (freshly ground to taste)
0.25 tsp (0.57g) Spices, Pepper, Black

Daily Limits
starchestimated
0.22g of 5g (4%)
keyboard_arrow_down
1/4 cup Parmesan cheese (freshly grated )
0.25 cup (20g) Cheese, Parmesan, Shredded

Daily Limits
starchestimated
0.5g of 5g (10%)