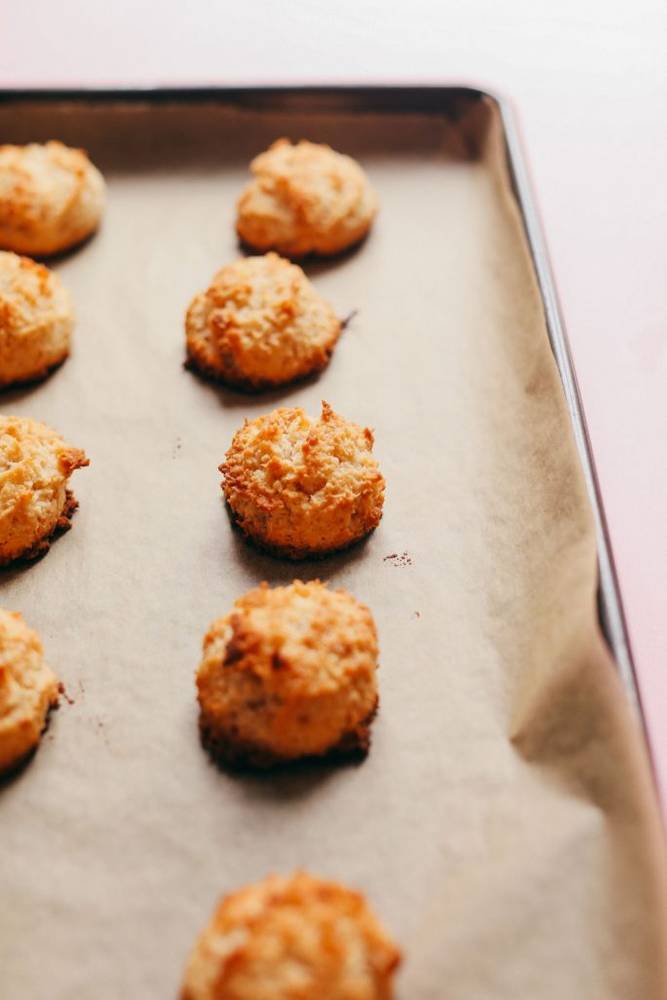 Aquafaba Macaroons (Nightshade-Free Recipe Analysis)
Vegan macaroons made with aquafaba! Just 6 ingredients required, naturally sweetened, fluffy on the inside, crisp on the outside! The perfect plant-based dessert.
Full recipe at minimalistbaker.com
Ingredients
keyboard_arrow_down
4 cups packed shredded unsweetened coconut* ((see notes for brand recommendations))
4 cup (320g) Shredded Unsweetened Coconut

Ingredients
UNSULFURED COCONUT.
May not be a complete representation of the selected category.
keyboard_arrow_down
½ cup aquafaba ((brine from canned chickpeas // see our Aquafaba Guide!))
0.5 cup (100g) Chickpeas (garbanzo Beans, Bengal Gram), Mature Seeds, Raw

keyboard_arrow_down
1/4 tsp cream of tartar ((optional // to help the aquafaba stiffen))
0.25 tsp (0.75g) Leavening Agents, Cream Of Tartar

keyboard_arrow_down
7 Tbsp maple syrup ((DIVIDED // or sub stevia to taste - 1-2 packets))
7 tbsp (140g) Syrups, Maple

keyboard_arrow_down
1 tsp vanilla extract
1 tsp (4.2g) Vanilla Extract

keyboard_arrow_down
1/4 tsp sea salt ((plus more to taste))
0.25 tsp (1.5g) Salt, Table

keyboard_arrow_down
2 Tbsp melted coconut oil ((If avoiding oil, omit // coconut oil adds moisture and helps them brown in the oven))
2 tbsp (27g) Oil, Coconut

keyboard_arrow_down
2/3 cup chopped vegan dark chocolate ((I like Trader Joe's 72% dark chocolate bar))
0.67 BAR (33g) Trader Joe's, Dark Chocolate

Ingredients
COCOA MASS, SUGAR, COCOA BUTTER, SOY LECITHIN. COCOA SOLIDS 56% MIN.
May not be a complete representation of the selected category.
keyboard_arrow_down
1 Tbsp coconut oil ((if avoiding oil, omit))
1 tbsp (14g) Oil, Coconut