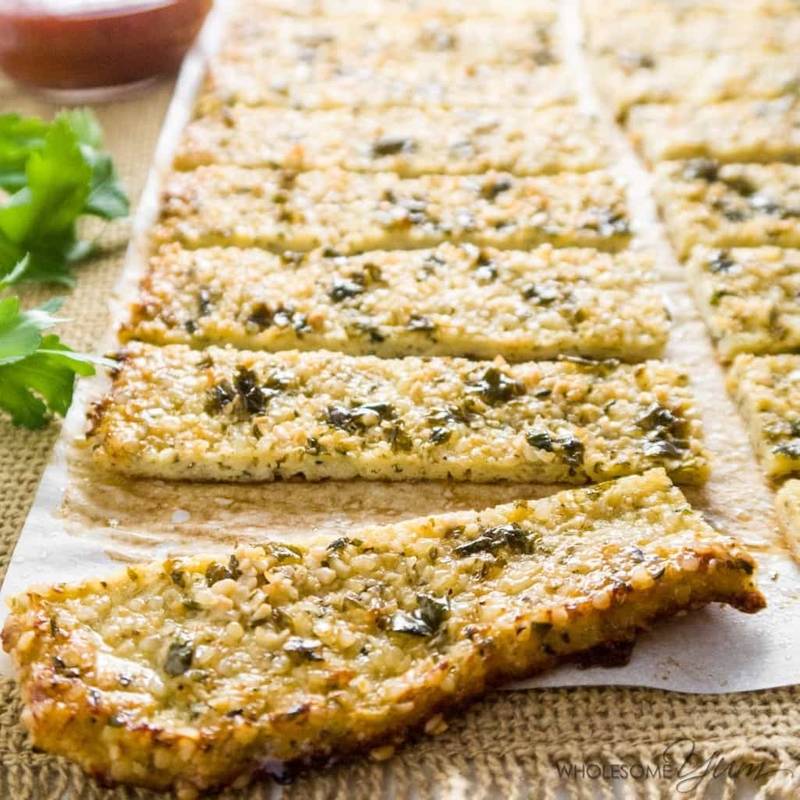 Low Carb Cauliflower Breadsticks with Garlic Butter & Hemp Seeds (Paleo, Gluten-free) (Keto Recipe Analysis)
These crispy, low carb cauliflower breadsticks are low carb and paleo. Garlic butter and hemp seeds provide plenty of flavor. Gluten-free, healthy, and easy to make!
Full recipe at www.wholesomeyum.com
Compliance
Based on the Keto way of eating preset. View more Keto recipes.
Daily Limits
net carbs
37g of 15g (250%)
Daily Goals
total fat
76g of 100g (76%)
Ingredients
keyboard_arrow_down
1 head Cauliflower ((riced using a grater or food processor))
1 head medium (5-6" dia.) (588g) Cauliflower, Raw

Daily Limits
net carbs
17g of 15g (116%)
Daily Goals
total fat
1.6g of 100g (2%)
keyboard_arrow_down
1/2 cup Hemp seeds
0.5 cup (80g) Seeds, Hemp Seed, Hulled

Daily Limits
net carbs
3.7g of 15g (25%)
Daily Goals
total fat
39g of 100g (39%)
keyboard_arrow_down
2 large Egg
2 large (100g) Egg, Whole, Raw, Fresh

Daily Limits
net carbs
0.72g of 15g (5%)
Daily Goals
total fat
9.5g of 100g (10%)
keyboard_arrow_down
3/4 tsp Sea salt
0.75 tsp (4.5g) Salt, Table

keyboard_arrow_down
1/2 tsp Black pepper
0.5 tsp (1.1g) Spices, Pepper, Black

Daily Limits
net carbs
0.44g of 15g (3%)
Daily Goals
total fat
0.04g of 100g (0%)
keyboard_arrow_down
3 tbsp Butter ((salted, or add additional salt if using unsalted))
3 tbsp (48g) Nuts, Cashew Butter, Plain, With Salt Added

Daily Limits
net carbs
13g of 15g (87%)
Daily Goals
total fat
25g of 100g (25%)
keyboard_arrow_down
1 tbsp Fresh parsley ((packed, chopped))
1 tbsp (3.8g) Parsley, Fresh

Daily Limits
net carbs
0.11g of 15g (1%)
Daily Goals
total fat
0.03g of 100g (0%)
keyboard_arrow_down
2 cloves Garlic ((minced))
2 clove (6g) Garlic, Raw

Daily Limits
net carbs
1.9g of 15g (12%)
Daily Goals
total fat
0.03g of 100g (0%)