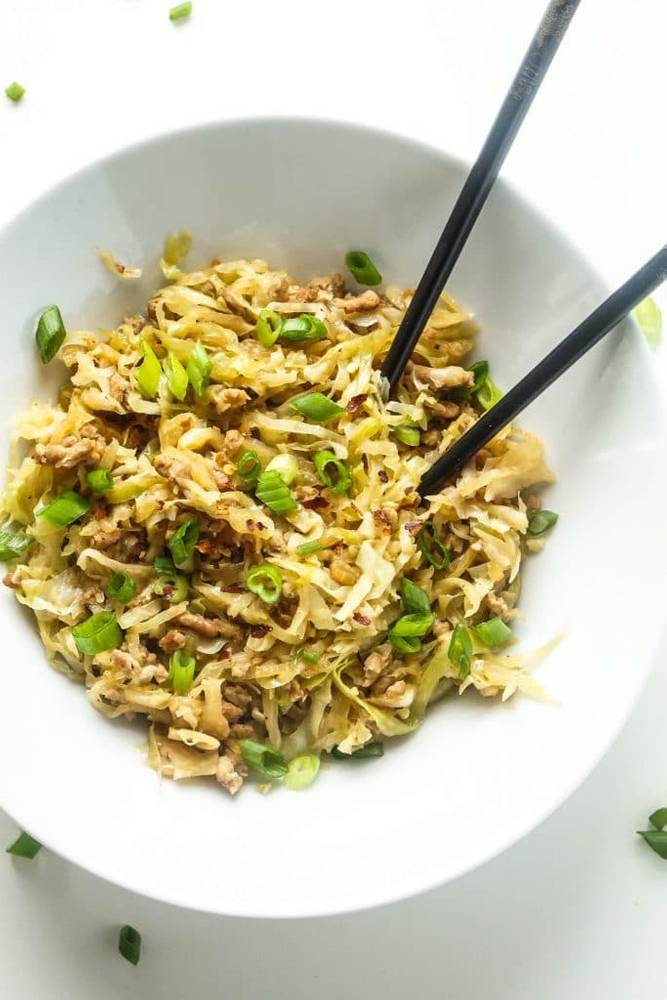 Keto Egg Roll in a Bowl (Low Starch Recipe Analysis)
This egg roll in a bowl tastes just like the real thing without the oily wrapper!
Full recipe at ketogasm.com
Ingredients
keyboard_arrow_down
1 pound ground pork
1 pound (454g) Pork, Ground, 96% Lean / 4% Fat, Raw

Daily Limits
starchestimated
0.95g of 5g (19%)
keyboard_arrow_down
1 head cabbage (thinly sliced)
1 head, medium (about 5-3/4" dia) (908g) Cabbage, Raw

keyboard_arrow_down
½ onion (medium, thinly sliced)
0.5 medium (2-1/2" dia) (55g) Onions, Raw

keyboard_arrow_down
1 tablespoon sesame oil
1 tbsp (14g) Oil, Sesame, Salad Or Cooking

keyboard_arrow_down
¼ cup soy sauce or liquid aminos
0.25 cup (60ml) Liquid Aminos, Natural Soy Sauce Alternative

Ingredients
VEGETABLE PROTEIN FROM SOYBEANS & PURIFIED WATER.
May not be a complete representation of the selected category.
keyboard_arrow_down
1 clove garlic (minced)
1 clove (3g) Garlic, Raw

Daily Limits
starchestimated
0.9g of 5g (18%)
keyboard_arrow_down
1 teaspoon ground ginger
1 tsp (1.8g) Spices, Ginger, Ground

Daily Limits
starchestimated
0.97g of 5g (19%)
keyboard_arrow_down
2 tablespoons chicken broth
2 tbsp (31g) Soup, Chicken Broth, Ready-to-serve

Daily Limits
starchestimated
0.003g of 5g (0%)
keyboard_arrow_down
1/4 tsp Salt
0.25 tsp (1.5g) Salt, Table

keyboard_arrow_down
1/4 tsp pepper to taste
0.25 tsp (0.57g) Spices, Pepper, Black

Daily Limits
starchestimated
0.22g of 5g (4%)
keyboard_arrow_down
2 stalks of green onion
2 medium (4-1/8" long) (30g) Onions, Spring Or Scallions (includes Tops And Bulb), Raw

Daily Limits
starchestimated
0.72g of 5g (14%)